From his studio in Hackney Wick, Wilfrid Wood draws portraits and sculpts heads of people. He studied at Central Saint Martins, and landed a job making heads for the satirical TV show Spitting Image in the 1990s, before embarking on his artistic career.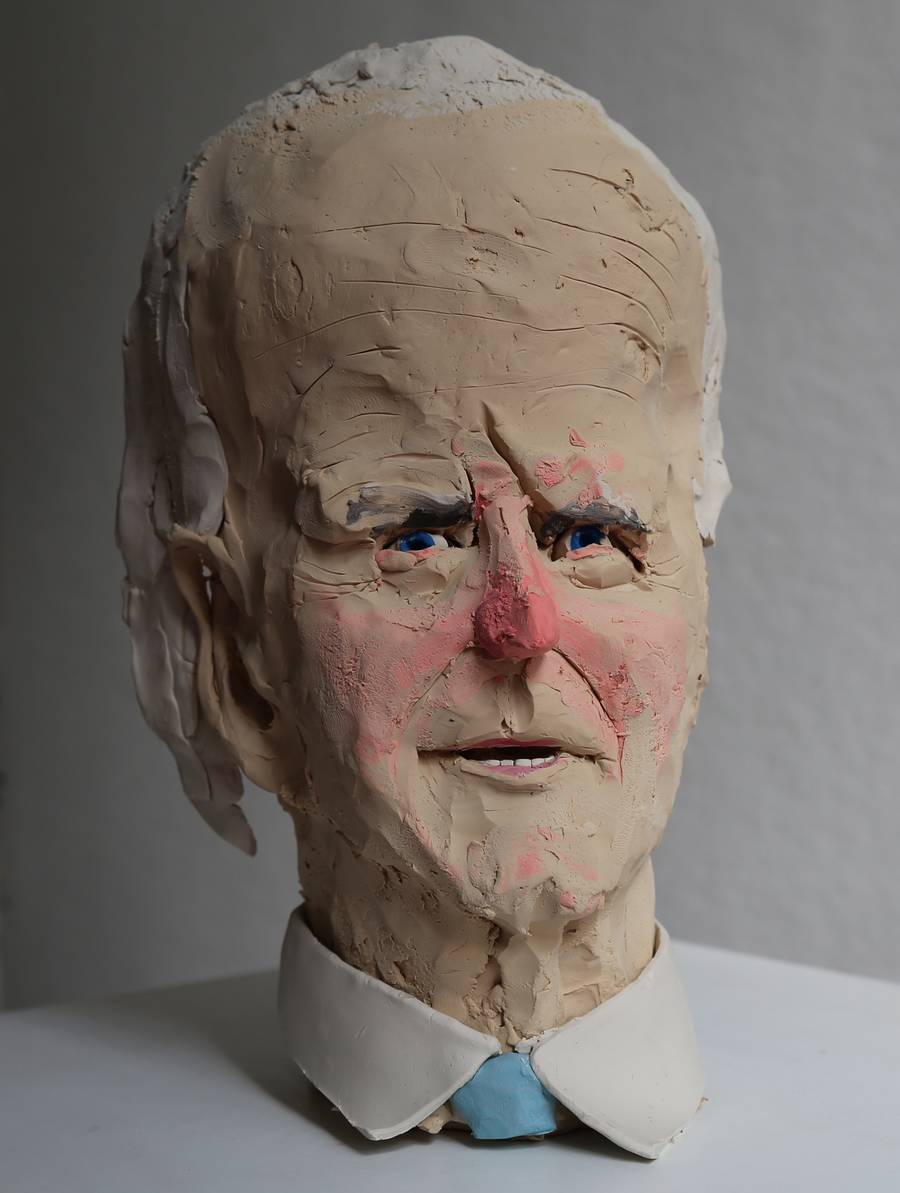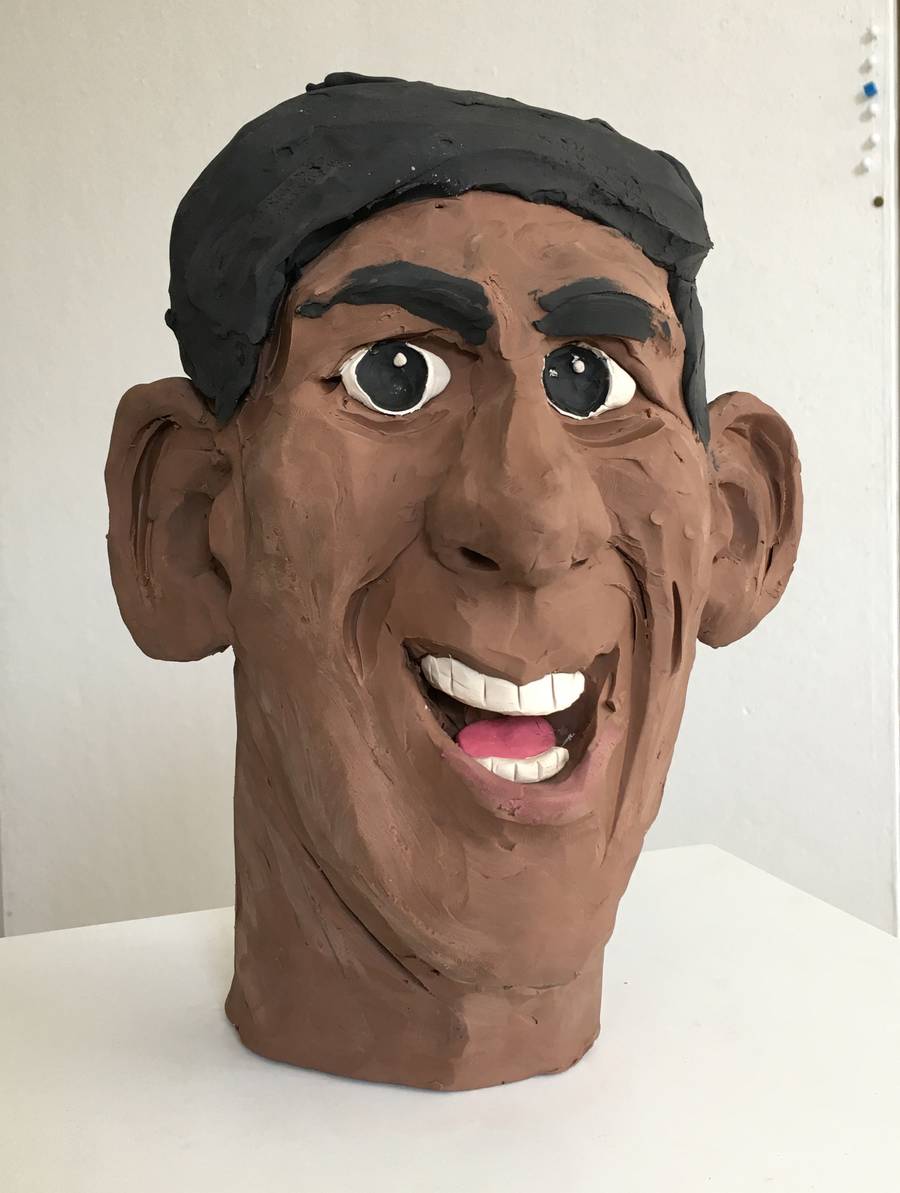 His drawings and sculptures in clay and plasticine depict politicians, celebrities, friends, strangers, and invented characters in equal measure. If you haven't already, we strongly urge you to peruse Wood's Instagram. To do so is like taking a trip through an eclectic gallery exhibition of his entire body of work. You will of course recognise some faces — Paul McCartney, Dizzee Rascal, Joe Biden, to name just a few — but perhaps the expressions or emotions of some will surprise you. How about the sculpted head of eternally serious Angela Merkel laughing gleefully like she's just cracked a terrible pun? Or the terrifying white eyes and contorted mouth of the clearly malicious baking icon Mary Berry?
The captions are also a joy: one accompanying a sculpted head of Sam Smith simply reads, 'Sam Smith who always eyes up my boyfriend in the park', while a shot of Adam Driver smashed on the floor is captioned with one word — 'F*ck'.
Wood's work is often satirical, but also empathetic, and at times very touching — particularly in his portraits of ordinary people. But perhaps the most potent encapsulation of Wood's work can be found in a video he uploaded not of its creation, but it's destruction. The squishing, pulling apart and pummelling of James Corden's plasticine face — or as Wood describes it, 'recycling' — is quite simply as good as it sounds, and contains within it many of the emotions we feel when viewing Wood's art: amusing, surreal, and immensely satisfying. We caught up with Wood to talk all things art and faces.
OH What makes an interesting face?
WW There is no such thing as an uninteresting face.
OH What kind of faces do you most enjoy drawing and making?
WW Basically the weirder the better, but it can be very unpredictable. Sometimes a fantastic looking fashion model walks through the door and I do a crap drawing of them. Sometimes a stodgy looking lump of dough walks through the door and I do a drawing we both love. I think it's got more to do with my rapport with the model, or lack of it.
OH What appeals to you about working with people?
WW I've always been mad on drawing faces from life - it's the challenge of getting a likeness, the psychological element involved, and an unpleasant neediness in me to get close to people but remain in control.
OH What was it like working on Spitting Image at the start of your career?
WW Marvellous. Up until that point I'd been bored stiff doing work I wasn't good at. It showed me that it was possible to have fun and get paid for it.
OH You have your studio in Hackney Wick, one of the most artistic neighbourhoods in London — what's it like working there?
WW I started there at least ten years ago when it was a no-man's land. Then the flat whites came, then the sourdough, and now there's a Sainsbury's and fleets of Range Rovers lurking in the gated community underground car parks. It's funny when an area completely changes; you can't help but feel nostalgic. Gradually you become one of those old gits that says, "I remember when..."
OH What does a typical day look like to you?
WW Normally I draw someone at home in the morning and then go to my studio in the afternoon. It's nice to draw, then sculpt, then draw again — one informs and refreshes the other.
OH How does working from a sitter compare to working from an image?
WW Drawing from photos is for wimps. Drawing from life involves psychology, cups of tea, embarrassment, patience, accidental farts, vulnerability, pins and needles.
OH It must be a rather intimate relationship, drawing someone in person. How would you describe your relationship with the sitter?
WW We both enter into a strange dream zone where time becomes elastic and phones are switched off. I try to make the sitter as comfortable as possible before staring at them for a couple of hours, and asking them to stare at me in return. Some people can't bear the eye contact. I have to keep nudging them back by saying, "please look at me..."