Services
Frame repairs and adjustments
Lens changes
Bespoke services
Wheelchair accessible

Please note that we do not offer eye exams at this store. For eye exams in Edinburgh, please visit our New Town location.
Opening hours
Monday - Friday 10am - 7pm
Saturday 10am - 6pm
Sunday 11am - 5pm
Address
88-92 West Bow,
Grassmarket,
Edinburgh,
EH1 2HH

We first set eyes on the site at 88-92 West Bow over six years ago, and knew we needed to be together. Previously home to a kilt maker, a leech seller, and even an optician, it is a picturesque store lining one of the most beautiful streets in Britain.

Cubitts Old Town is an ode to Scottish modernism, inspired by textile designer Bernat Klein (1922–2015), who introduced vibrant colour into Scottish textiles - producing innovative fashion fabrics for the couture houses of Europe, such as Christian Dior and Yves Saint Laurent. The store pays particular homage to the magnificent Klein House he commissioned in 1957, designed by modernist architect Peter Womersley, and sitting on a beautiful plot 35 miles south of Edinburgh.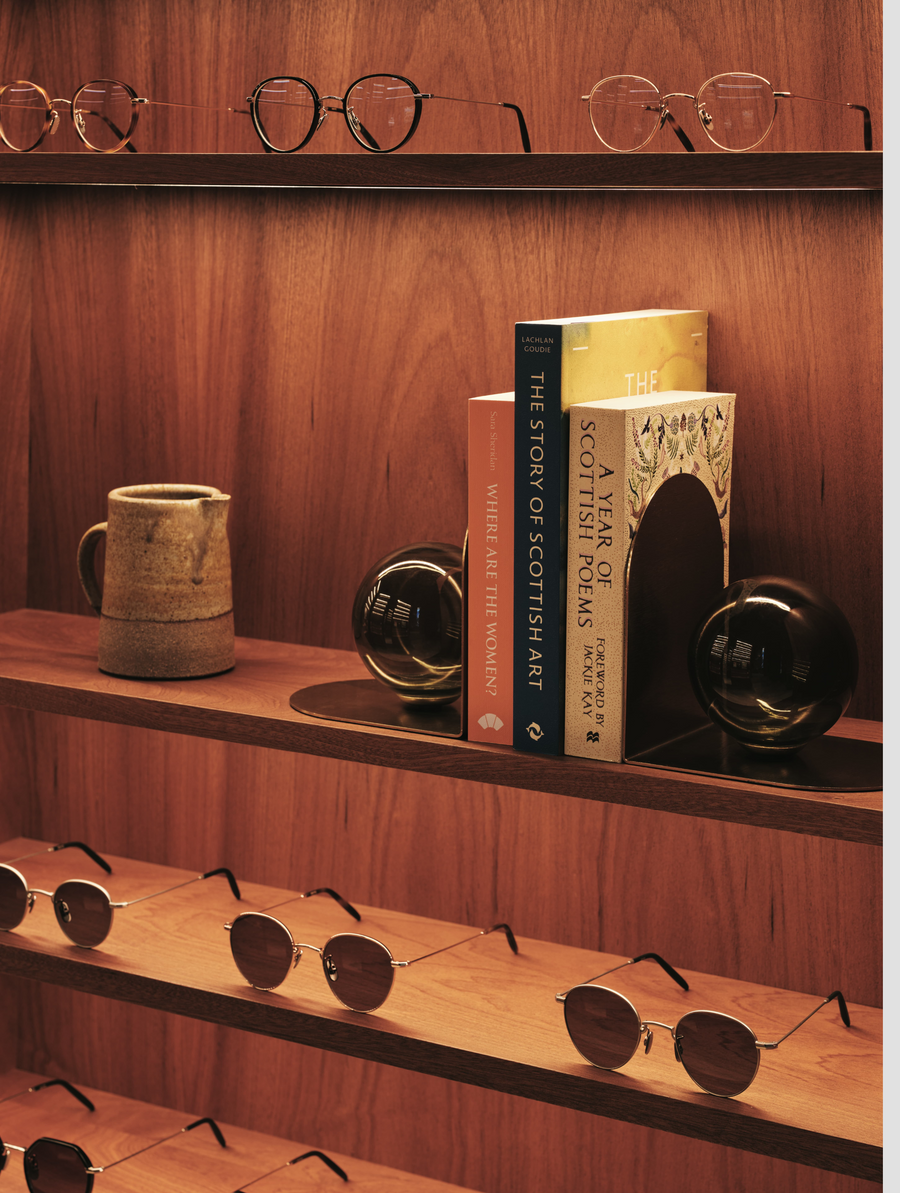 The single storey house is divided into eight foot parts, with an inventive combination of materials, including exotic hardwoods and primary yellow and green internal and external tiling. Alongside the custom cabinetry is a selection of mid century furniture, including Teak Afromosia Armchairs by R. W. Toothill, from across the border in Newton Aycliffe, softened by a woollen Bernat Klein throw.
Similarly our Old Town store is bedecked with sleek wooden panelling and modular shelving, proudly displaying our spectacles and sunglasses. The store features Kenneth Rowntree's (1915 – 1997) textile Full Measure, produced by the Edinburgh Weavers in 1957, as well as canvas paintings inspired by Klein's textiles.
We've created two exclusive frames, inspired by Scottish modernism's distinct characteristics. Cowgate, a classic quadra shape with subtle pointed lugs, a thicker brow and hidden countersink rivets. Bow, a modern aviator with straight, geometric lines that mirror both Klein House and our beautiful store.