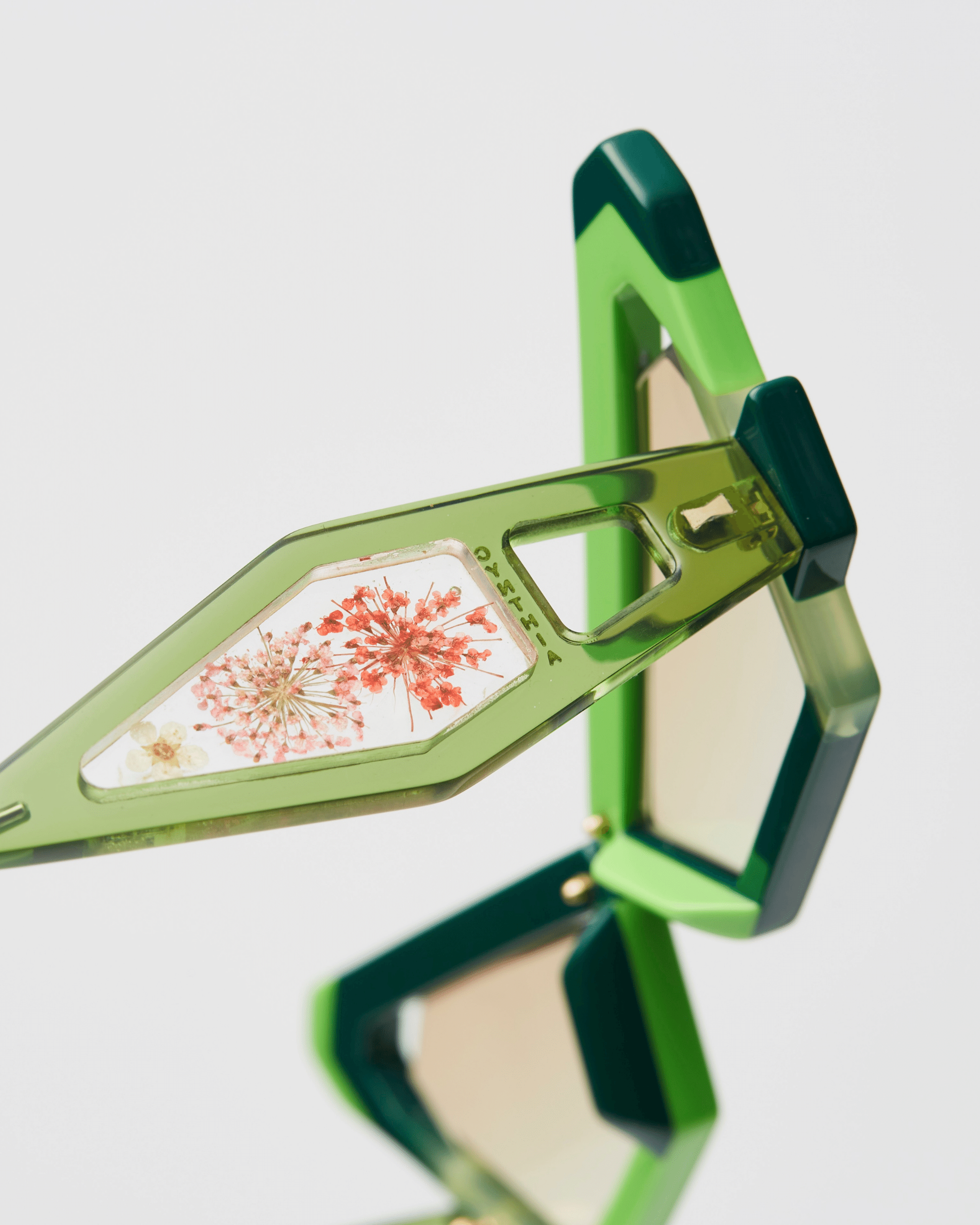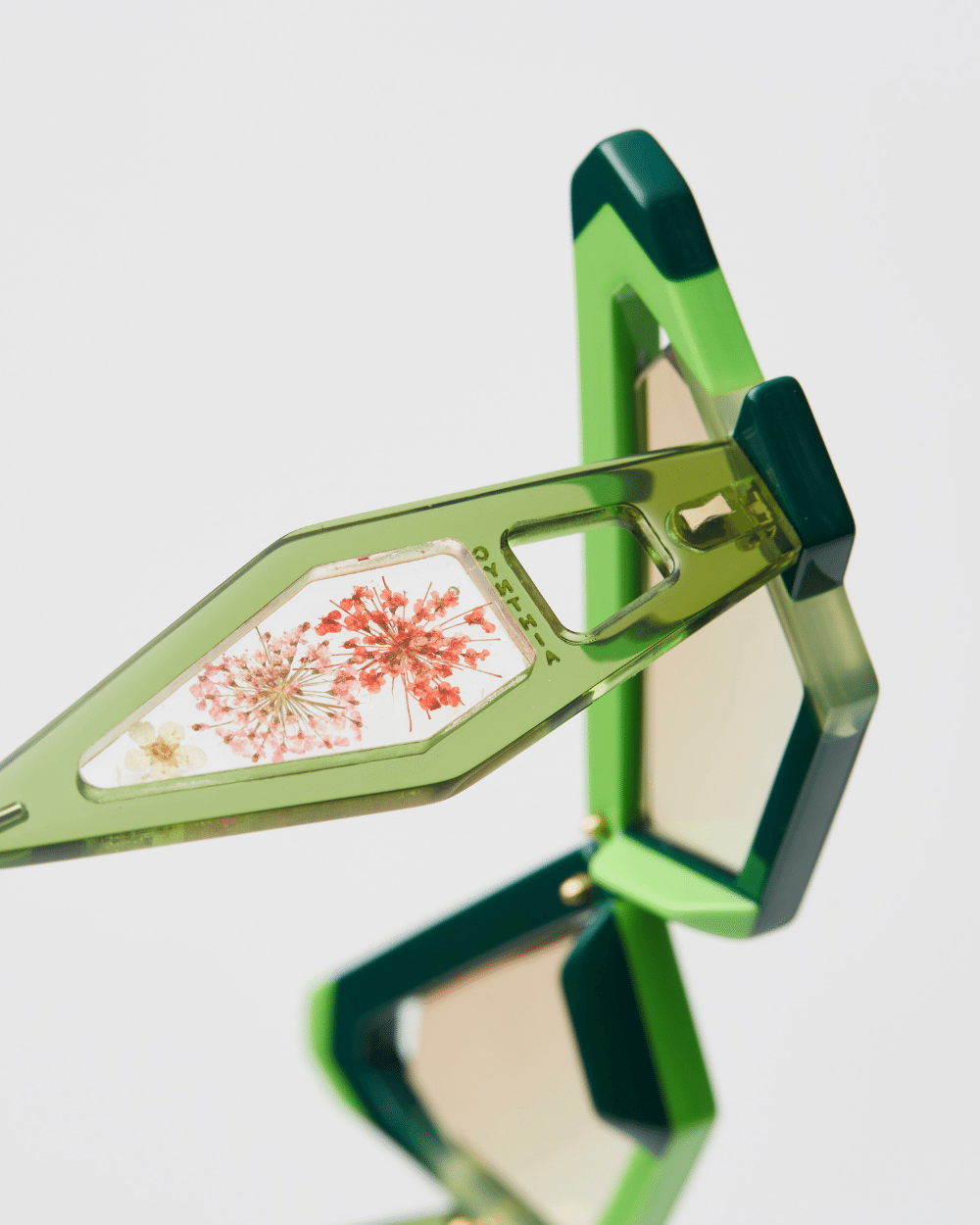 Bespoke+
When they come to write your biography, it's the subtlest of details which reveal the grand schema.
Tiny decisions of taste which tell us everything.
Sure, grand gestures of an ascetic, new-fallen-snow life or passing your days in some fin de siècle, decadent fug are fine for light conversation at your wake, but the endless little fantasies of style you indulge in are the real markers of your idiosyncratic id.
And so, Bespoke+. Create a truly unique frame, designed by you, for you. A frame designed with no limits.
How does it work?
You'll meet for two consultations with our designer in London, before your frame is prototyped and handmade in our King's cross workshop over the course of 8-10 weeks.
What's included?
Two consultations with our designer.
A choice of over 130 colours of acetate, responsibly sourced buffalo horn, or custom materials.
Standard prescription lenses (and an eye exam, should you need one).
Custom engraving on the inside temple.
A monogrammed leather case.
From £650. Get in touch or book a consultation
here
.
Explore some of our recent Bespoke+ creations below.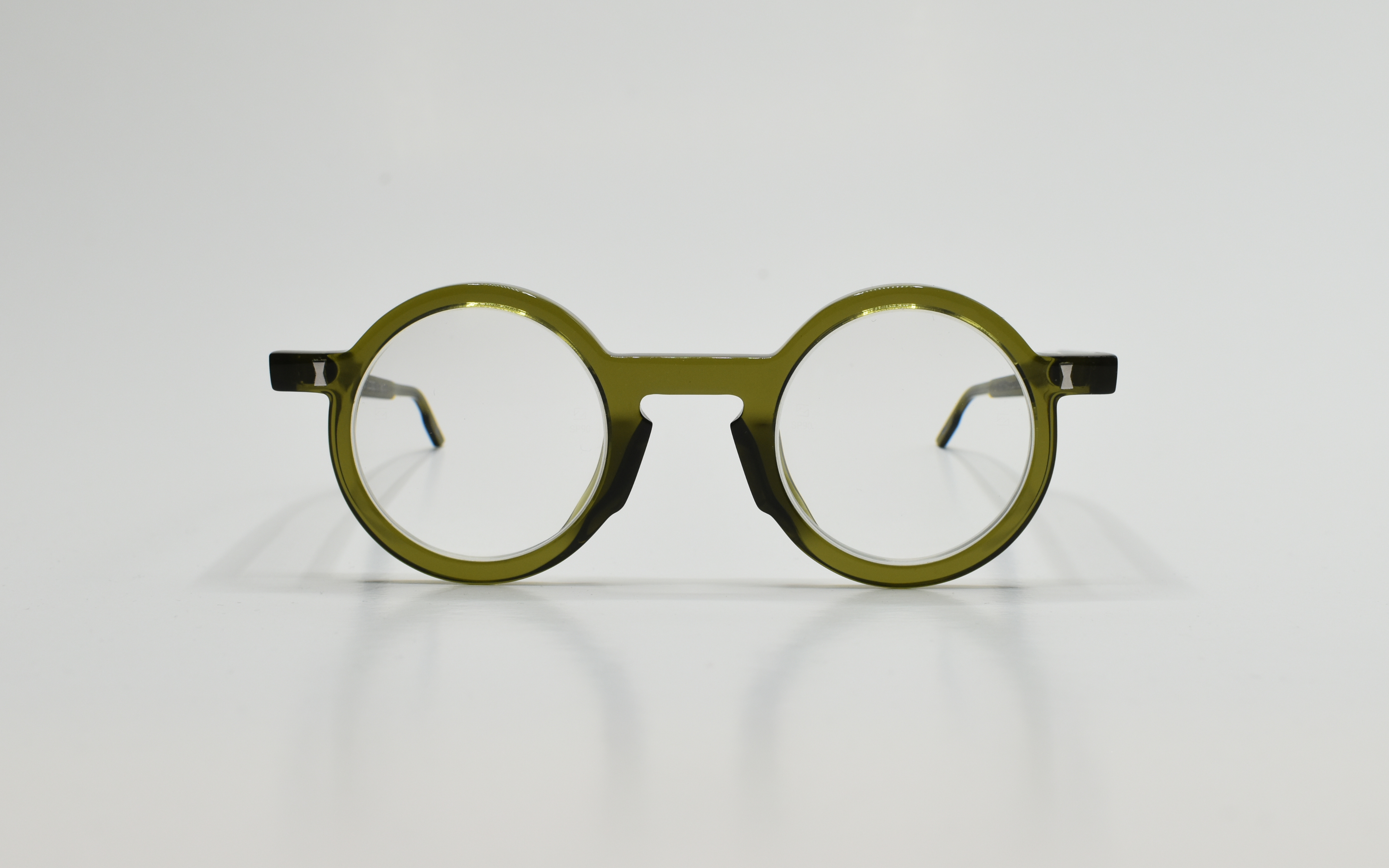 O-O


Simplicity in spectacles. A line and two circles. A circular lens and a perfectly straight bridge and lugs. Engraved in homage to A$AP Rocky.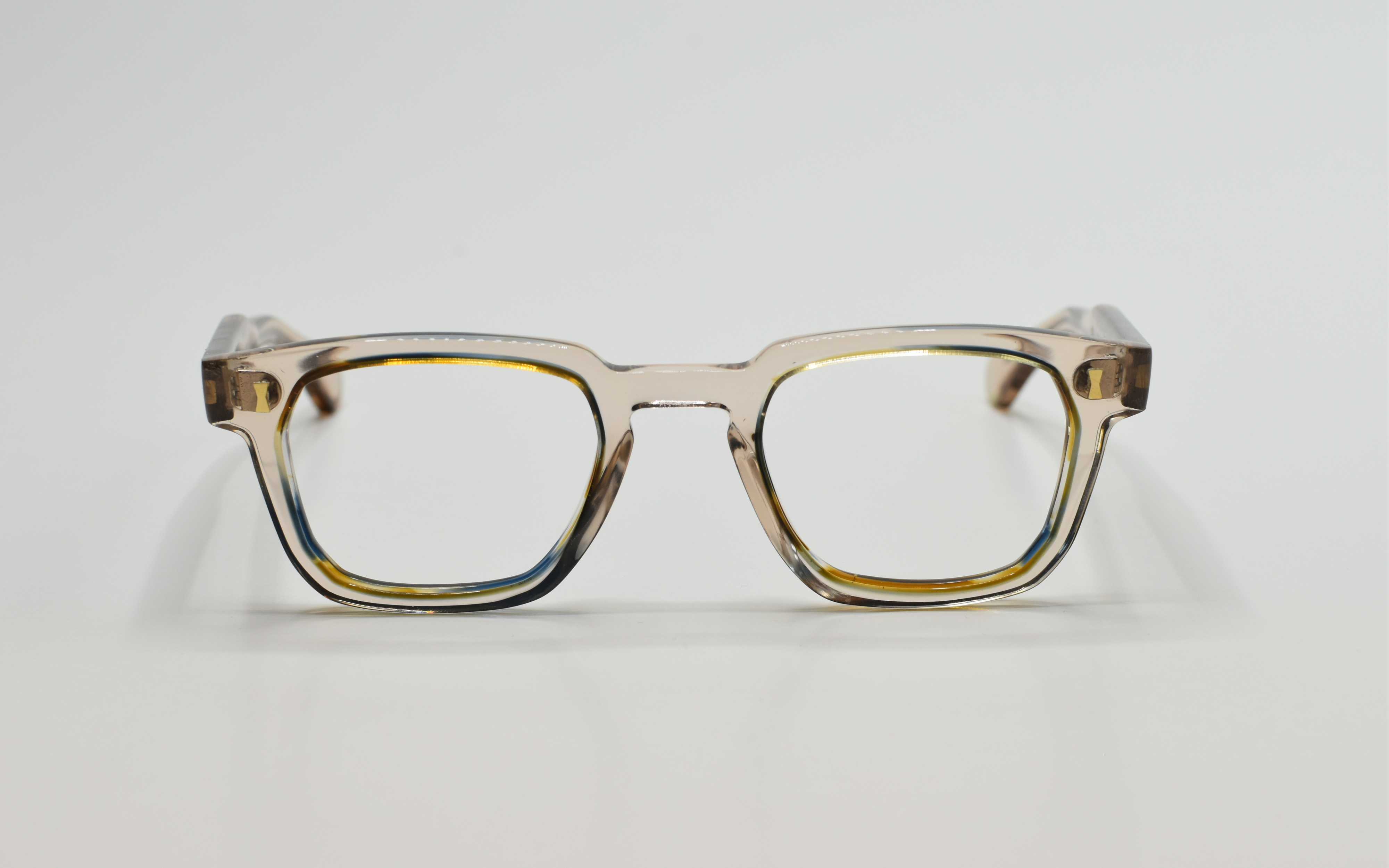 Subtlety is key


'When they come to write your biography, it's the subtlest of details which reveal the grand schema.'

A pair of frames in a squared silhouette, in Ivory and Olive acetates, each with the subtlest of laminations on the inner lens and temple tips.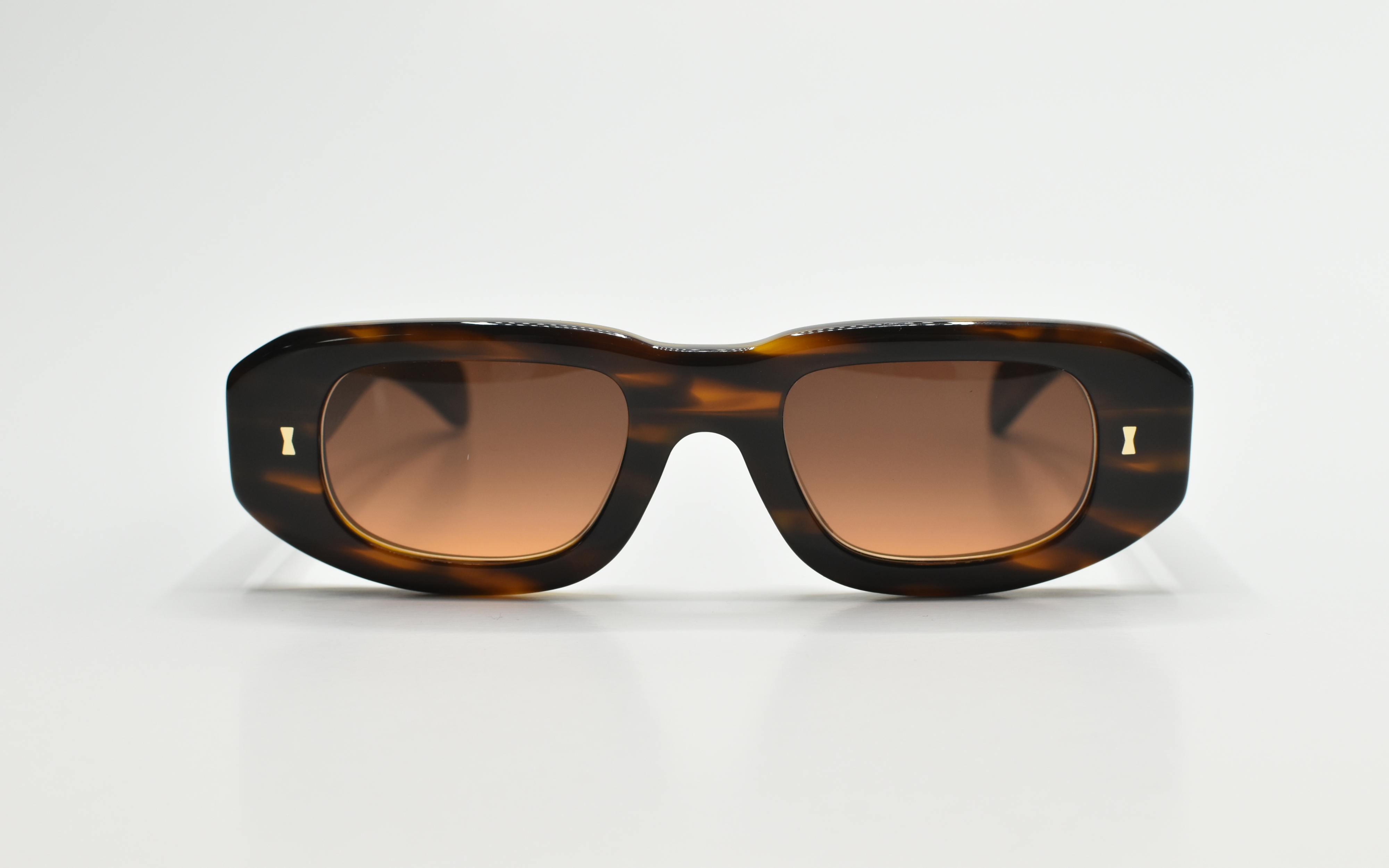 Easy Tiger


A 90s inspired pair of sunglasses that would serve equally well on the Italian Riviera and a nightclub.

Tiger acetate, shallow lenses, filleted edges, and custom brass rivets.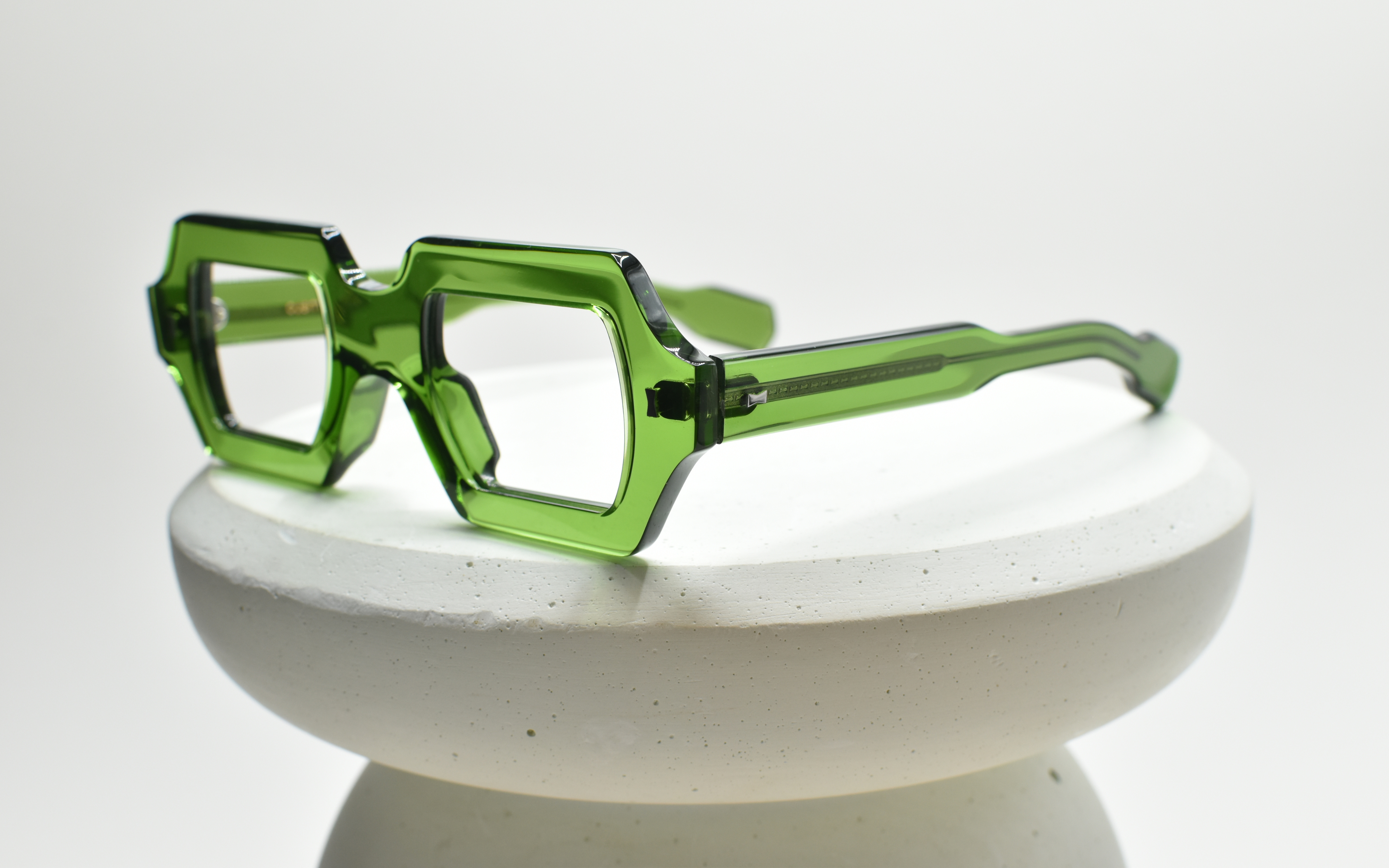 Welcome to Squaresville


Imagine a place where everything is square. Cups are difficult to drink from. Cars move slowly with a clunk. No-one has any problems getting square pegs in the ground.

And everyone wears spectacles like this. A square reinterpretation of our Woolf frame. Army Green acetate with bevelled details on the rims and sides.
Concentric spectacles


Like a circle in a spiral,

A wheel within a wheel,

Never ending or beginning,

With a clip-on made of steel. An oversized round silhouette drawing on Art Deco styling. Rendered in Black, with Bone inlay and a custom clip-on.
Cat eyes for every occasion


A diptych of bold cat eyes, to be swapped between for business and pleasure. Business. All Black with a boldly hand sculpted chamfer. Then pleasure. A combination of Black and Dark Turtle acetates with Army Green strips.
Cynthia Erivo & Ariana Grande
Fluorescent friends


A pair of oversized square frames for Cynthia , and her friend, Ari, in Army and Bubblegum acetates, with swapped temples. Inspired by their current film project, which we couldn't possibly tell you about, and engraved with a logo that gives the game away.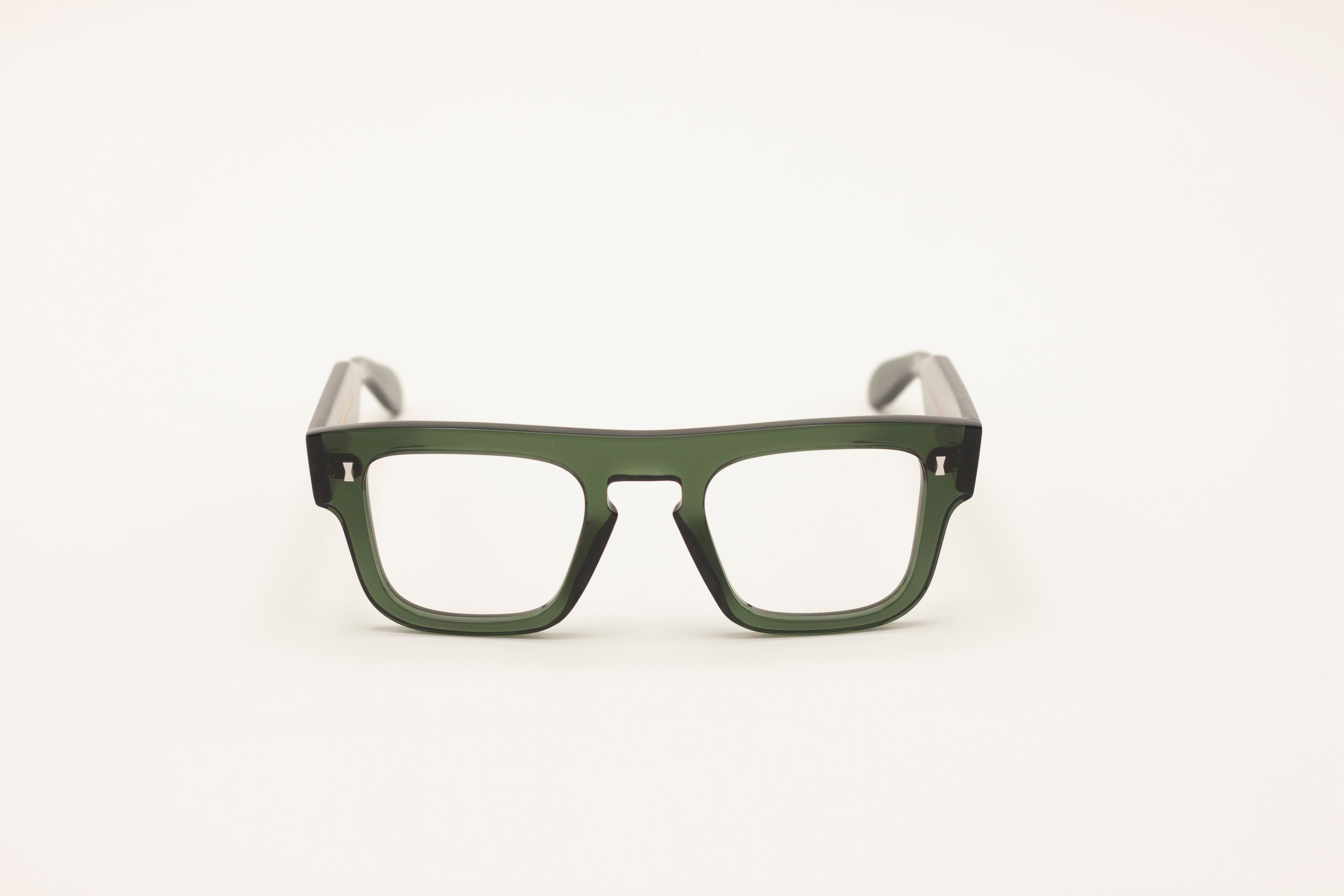 From the pool to the poplar


A bold silhouette, with design notes bridging built and natural environments. With an architectural squareness, emphasised on the outer temple inspired by a metal pool ladder. At the same time, organic, arboresque. In leafy Celadon acetate, adorned on the inner temple with details of a poplar tree.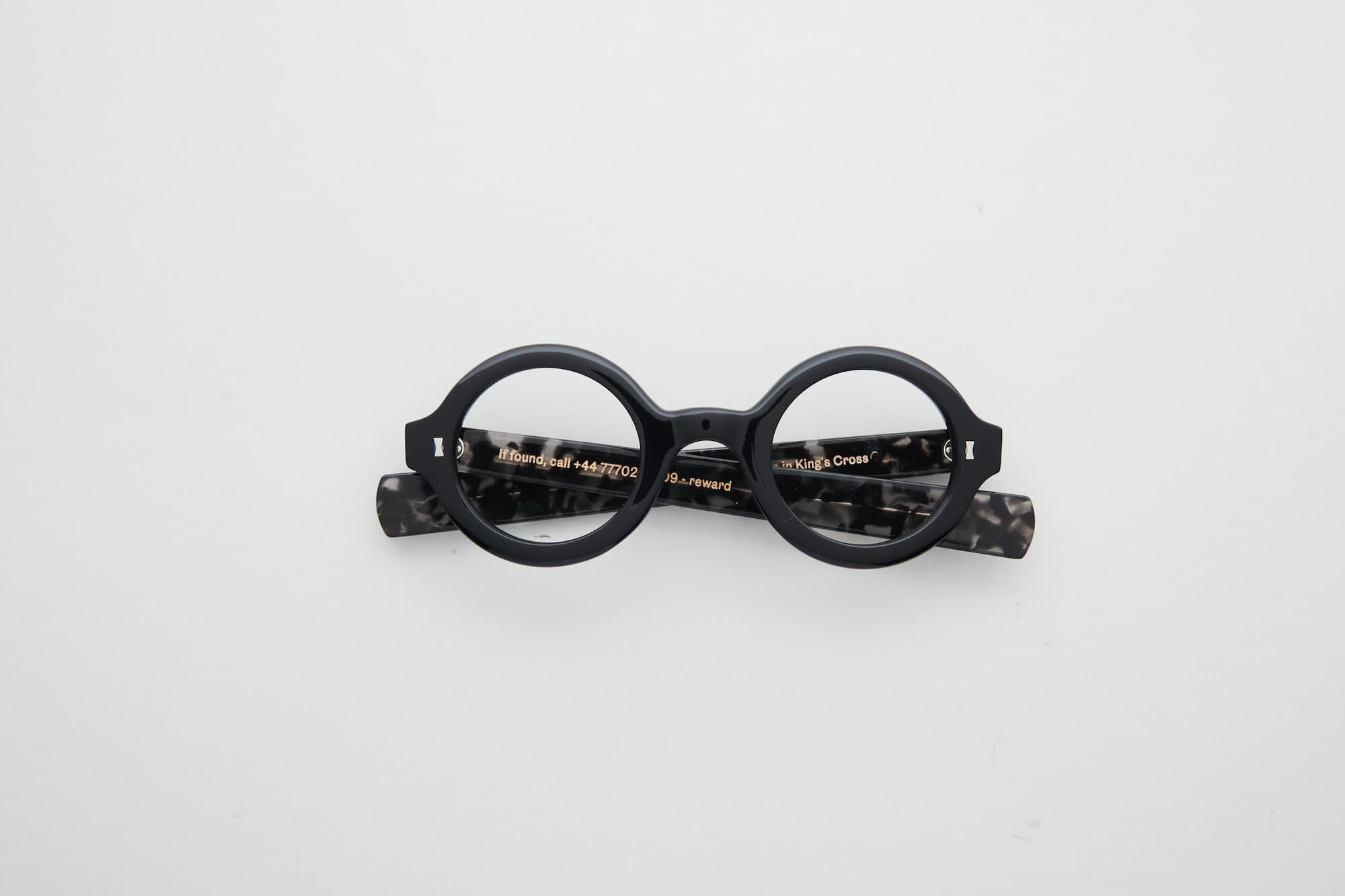 Facial architecture


"This striking silhouette was modelled after the spectacles worn by pioneer of modernist and postmodernist architecture, Philip Johnson. Its black acetate front is offset by bold bladed temples in mottled steel acetate, providing a startling juxtaposition. Like the Glass House Johnson built for himself in 1949, these spectacles are crafted to the proportions of their inhabitant, offering superior panoramic vision tailor-made to the viewer."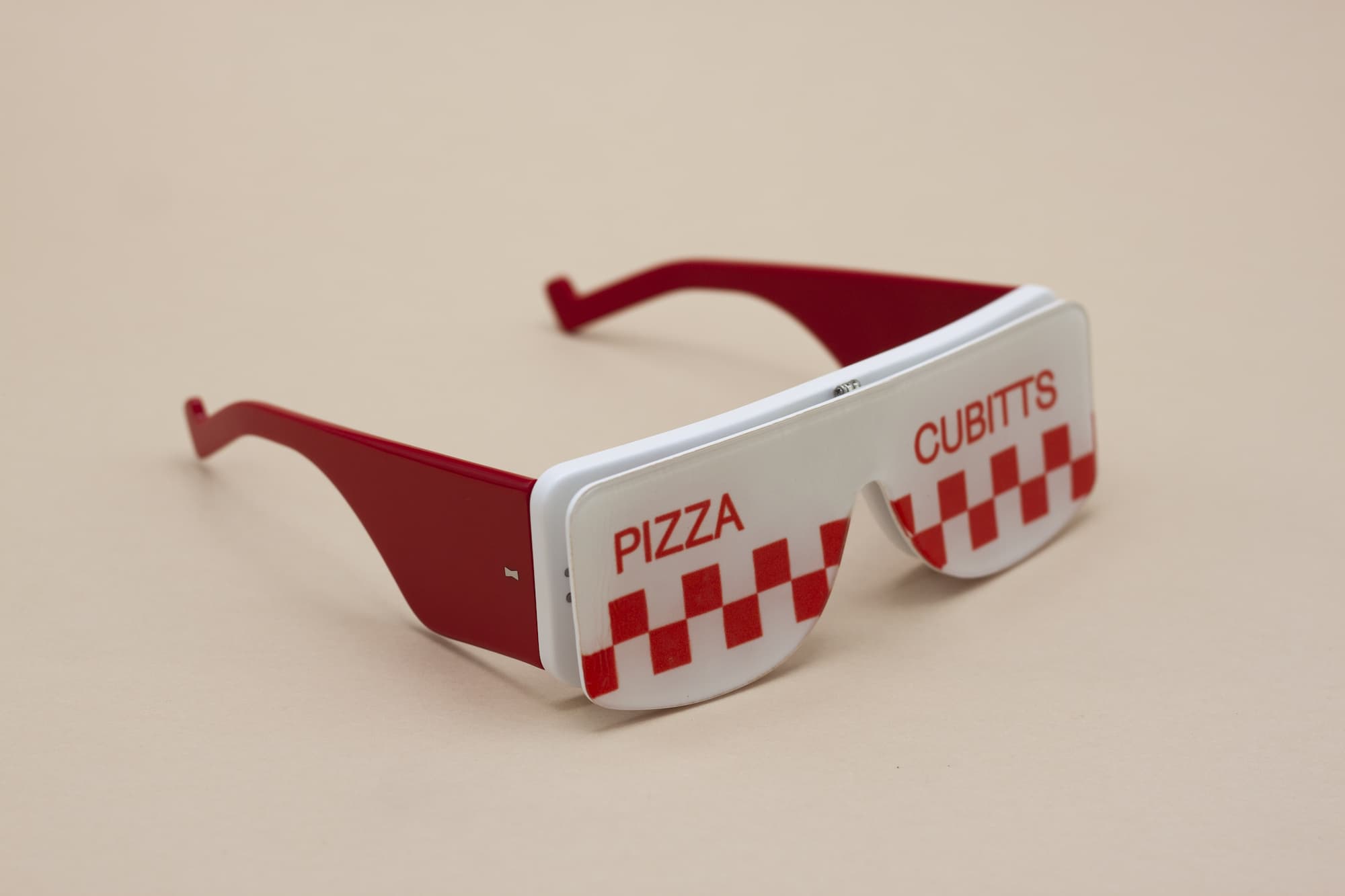 Glasses to go after Vecna


A pair of sensory deprivation frames inspired by Stranger Things. Perfect for practising your telekinetic abilities. Or retreating into your inner world. Or just for surprising the pizza delivery boy.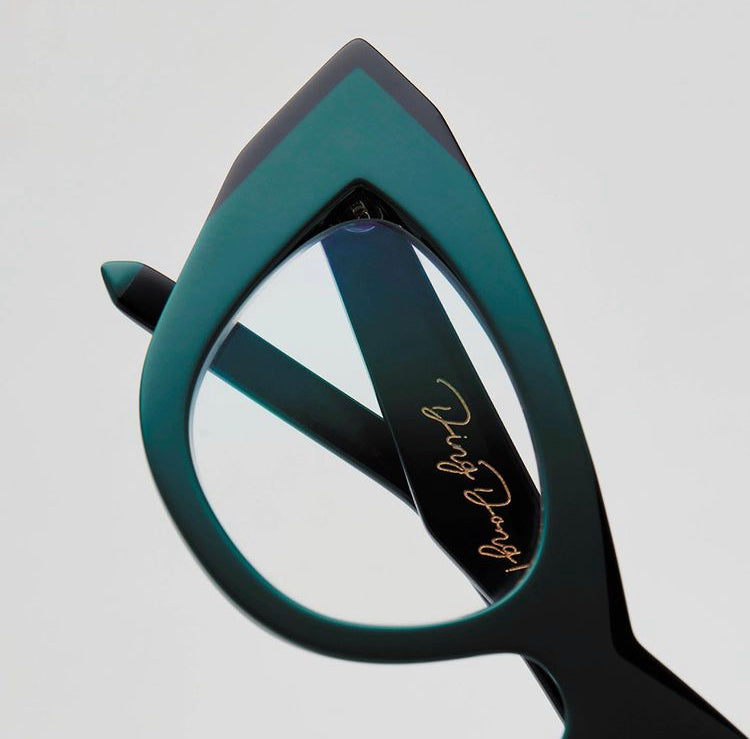 Ding Dong


A master of makeup, Val's three frames were made with the same high level of detail she employs in her craft. Her art contours and highlights all the beautiful features that make each face unique and the elegant. Each frame has an exaggerated cat eye and lamination on the lugs and bridge highlight this shape, our version of a makeup technique. The temples take inspiration from her trusty pencil with lamination on the tips to resemble this. Vintage brass rivets form a 'V' and act as a functional hinge. Topped off with Val's iconic catchphrase - Ding Dong.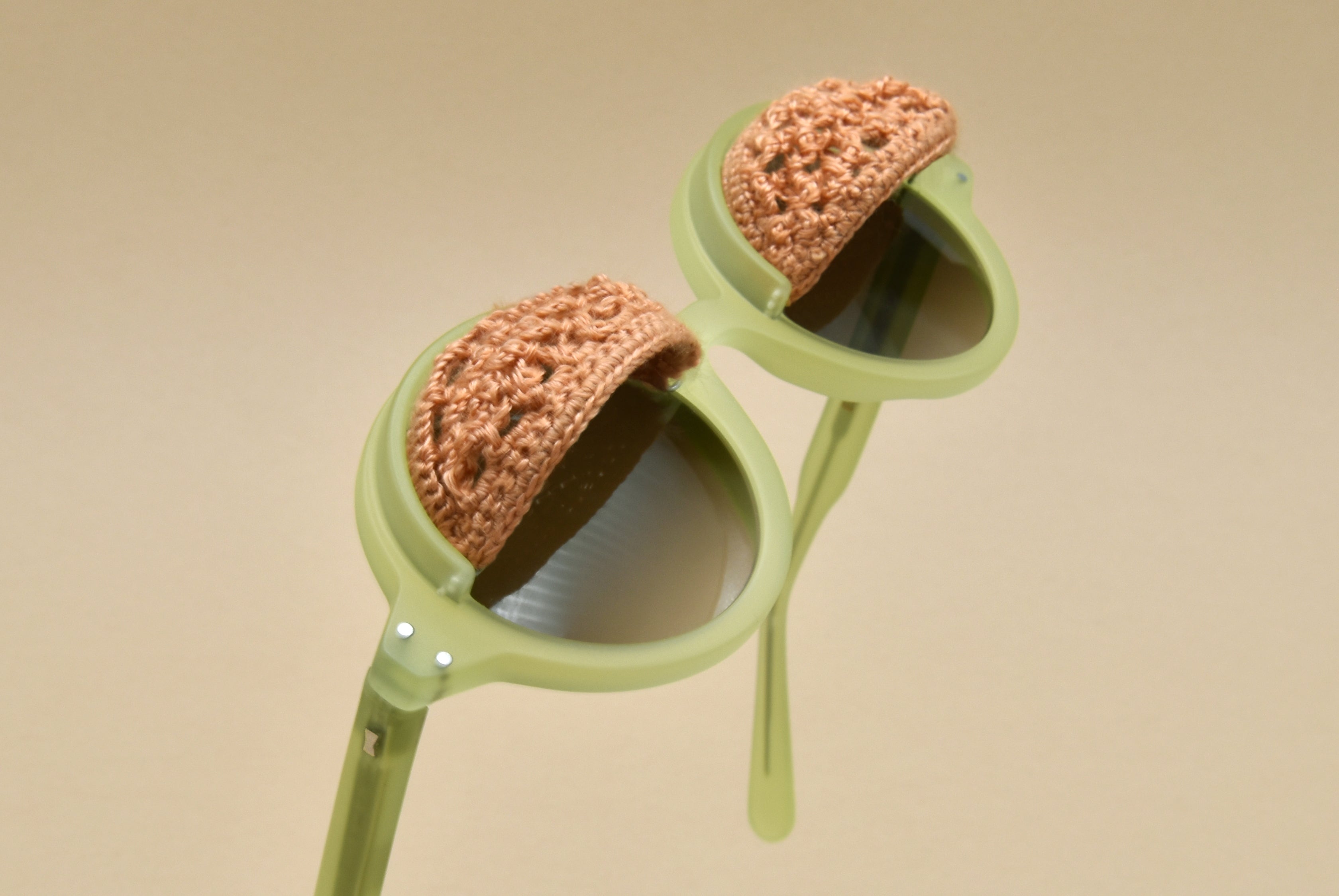 A Tribute


Crafted out of bold, green acetate with an additional acetate lip along the top of the frame. A shield, to secure a hand crocheted awning. Using complementing techniques including lamination, sculpting and crochet, a recreation of a classic. As Elton John once said, 'what the hell is wrong with expressing yourself'. We couldn't agree more. In tribute to the man himself, two frames inspired by iconic Elton frames. A space age, oversized frame. Crafted out of white acetate, this pilot style features three lenses, combining an apricot and pink tint alongside thick, paddle temples.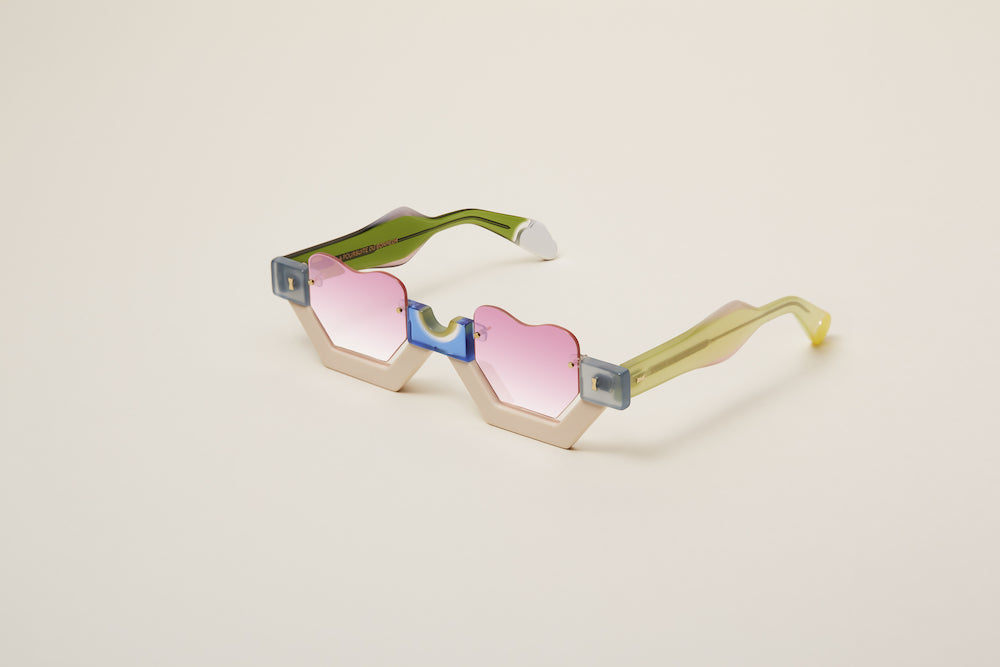 A special frame for a spectacles enthusiast


We worked with Cynthia to create a frame as unique as she, featuring ⁠ multiple laminations, gold hinges, screwed lenses, and pink gradient transition lenses. ⁠⁠ The bridge becomes a rainbow taking inspiration from Cynthia's signature piercing. The words 'a la poursuite du bonheur' are engraved, aptly translated to 'chasing happiness'.⁠⁠ Cynthia's design takes inspiration from the natural world - coloured green and pink to reference a vibrant floral bloom, with a cloud and sun at the temple tip.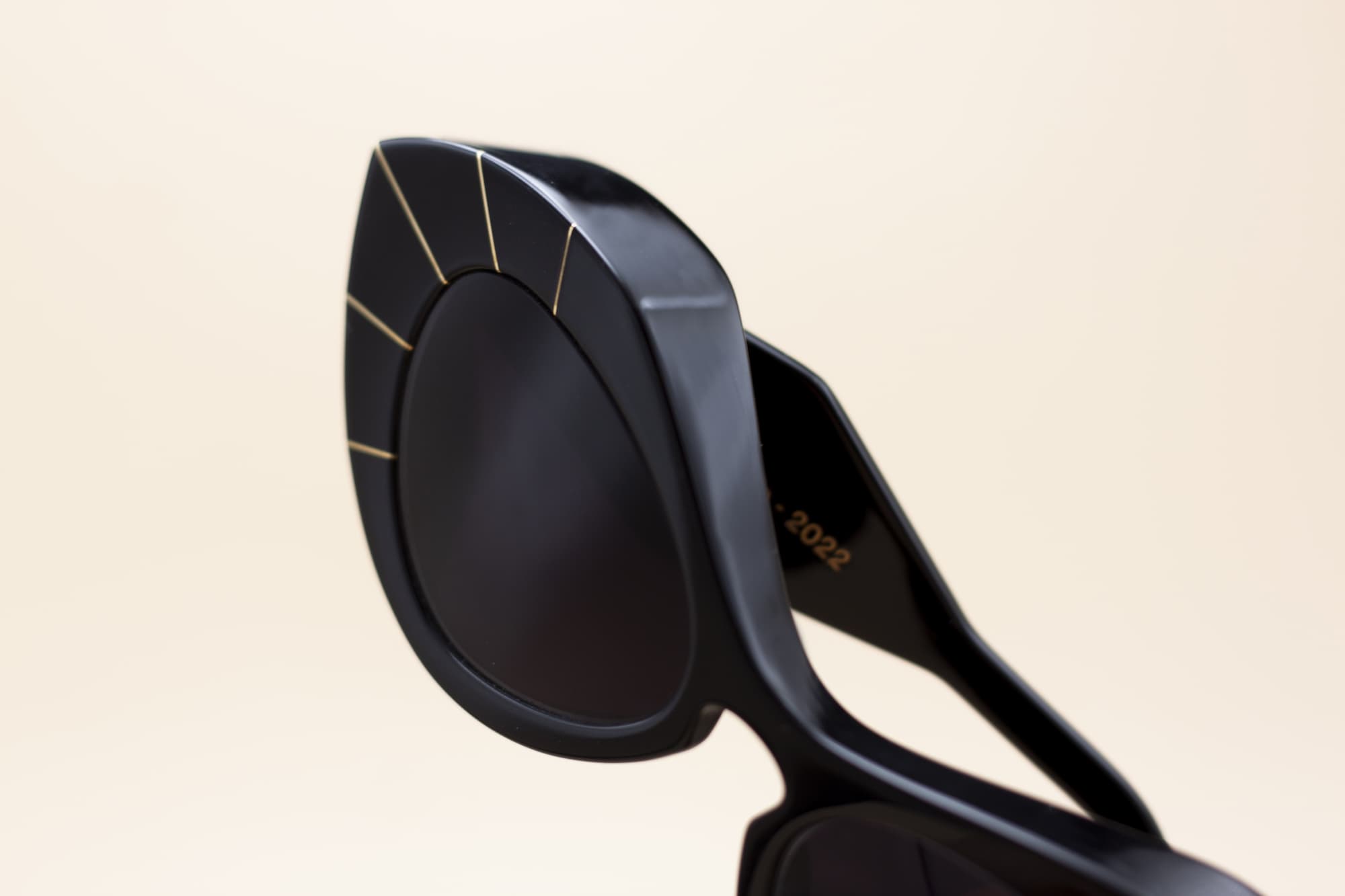 Beauty at the service of practicality


Out of nowhere, my optic nerves became damaged, to the point where I can no longer read or walk unaided. Losing your sight is devastating, for so many reasons; I felt it most acutely in my personal style. I've had to stop dressmaking, and lost the ability to fashion my hair and makeup as before. My eyes are sensitive to light, so wearing sunglasses is a must. But, the options available were practical rather than pleasing. I was so glad to work with Romain and design frames that were both. The sinuous exaggerated cat's eye is highlighted by radiating lines of inlaid brass. Shields following the contours of my face block light from all sides while being invisible from the front. I am beyond happy that my new sunglasses keep my mid-century aesthetic alive. And with time, I've recovered some of my old skill.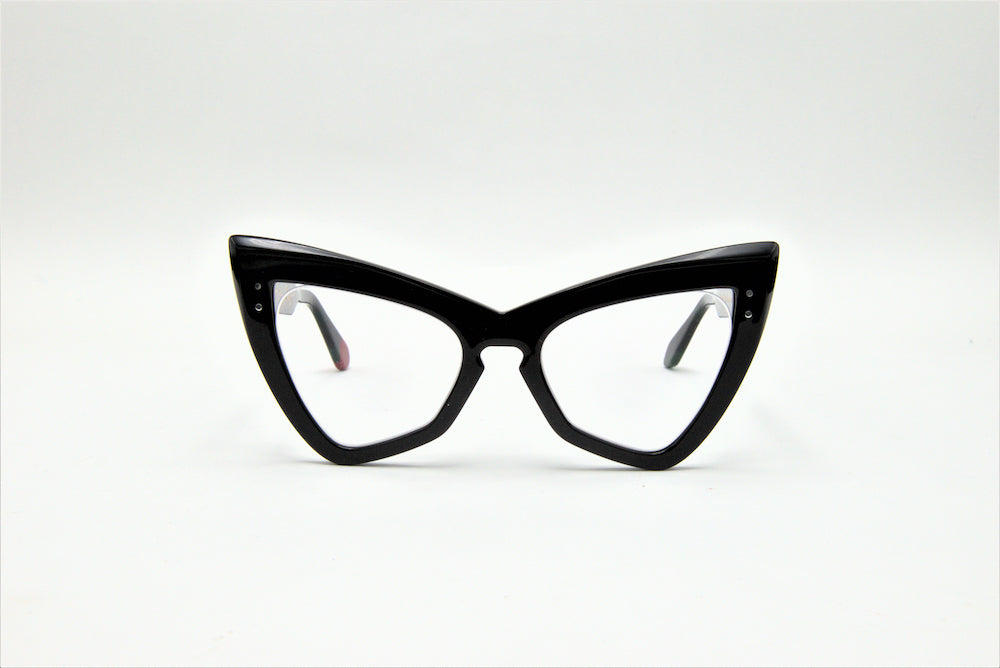 From student to master


Having done multiple frame making classes with Cubitts, Tara took the next step and ordered her first Bespoke+ frame. An exagerated cat eye frame featuring graphic elements, unexpected, contrasting curves. The key hole bridge is composed of straight lines with the intention of cutting the lens to allow for a gap in the top corner. Asymmetric temple tips add to this frames creativity with one pointed and one with a red circle. The engraving features a plane and a camera, referencing Tara's passions of travelling and photography. Her third one apparently is eyewear.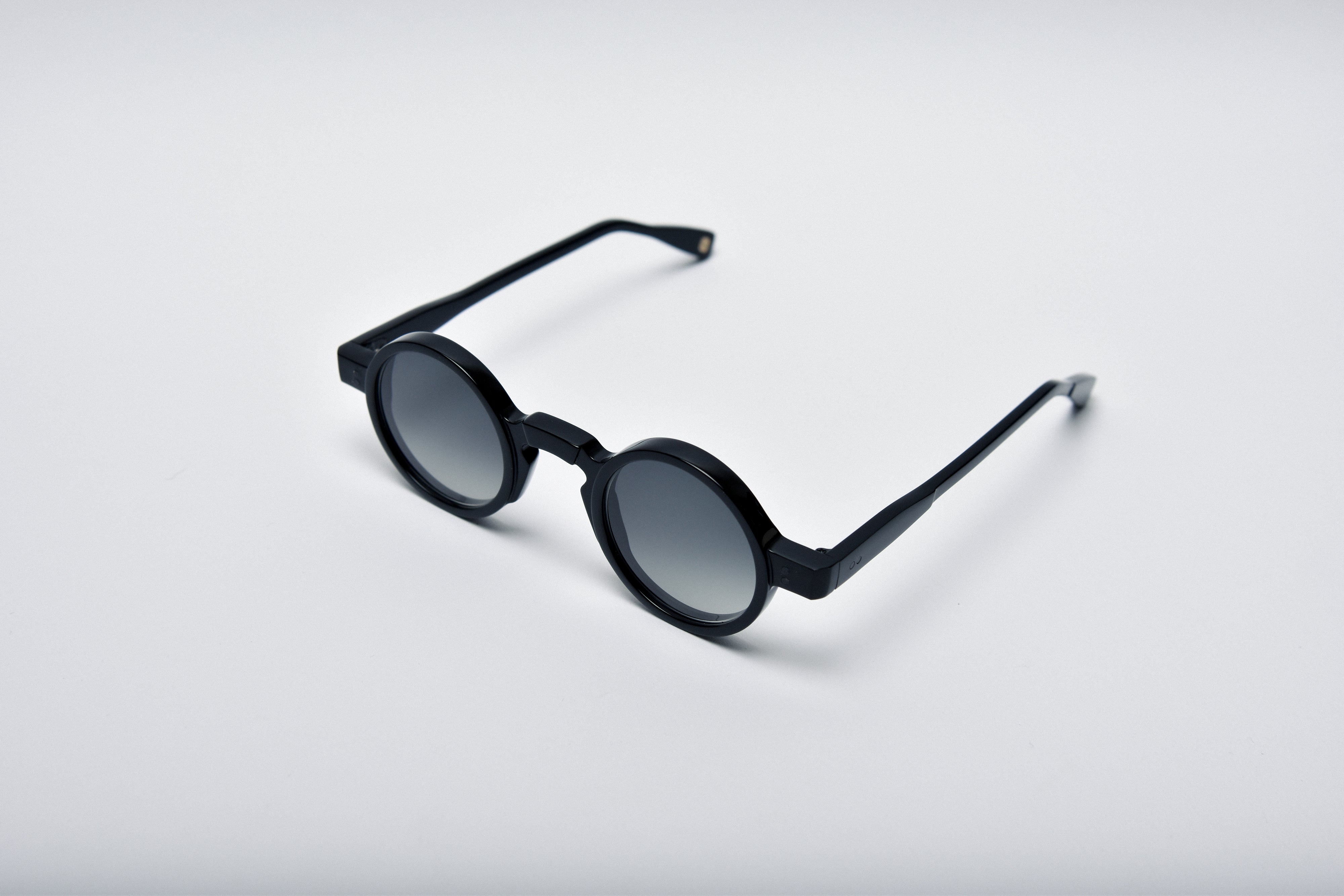 Frames with a deadly beauty


A frame based on the concept of an 'elegant gangster'. ⁠To produce the black hardware, we took inspiration from the custom car industry, applying a cerakote ceramic to the hinges and rivet pins. We then sculpted different level of thickness highlighting the classic rim shape. The client's crest was laser etched and embedded into the temple tip, and a custom engraving was applied. The shape itself updates a 1930s round eye to create a graceful silhouette, complete with built-up pads, and gradient lens. ⁠"To be worn menacingly."
A frame for expression


Bold colours and a futuristic geometric shape. This Bespoke+ is composed of multiple laminations of acetate - Dayglo, Barbie, High Vis, and Traffic Cone with the white acetate adds a balance to the overall design of the frame. The unique temple shape starts at the bottom of the frame and angles up to fit over the ears. A briliant example of the posibilities with Cubitts Bespoke.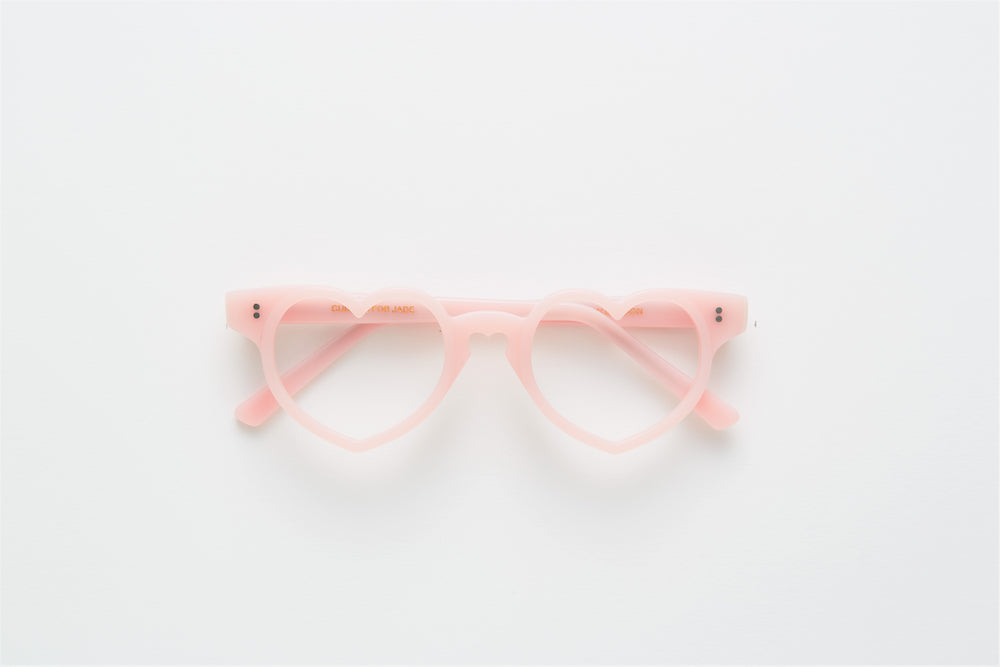 The simplest brief with the sweetest result
The simplest brief with the sweetest result: a heart-shaped pink frame, using our Dusty Pink acetate. This frame features a heart-shaped bridge to complement the lenses, with recessed hearts to highlight the line of the heart shape and pink gems in the temples.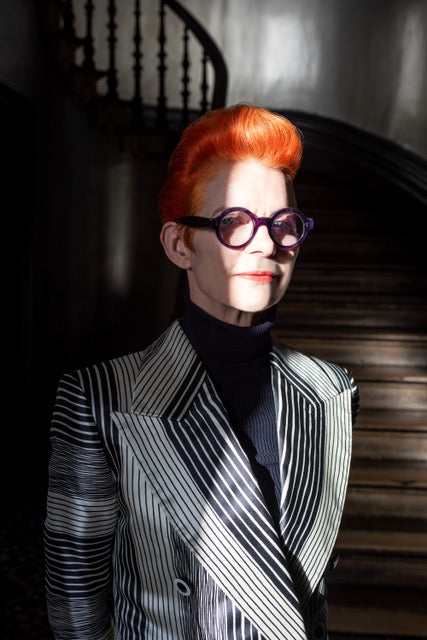 For the legend and Oscar winning British costume designer


Two graphic shapes, one oval and one cat eye, made out of Violet and Smoke Grey acetate respectively. Highly modern clean lines with a bumpless bridge. Temples inspired by the tracing wheel tool used in costume design with her signatures engraved.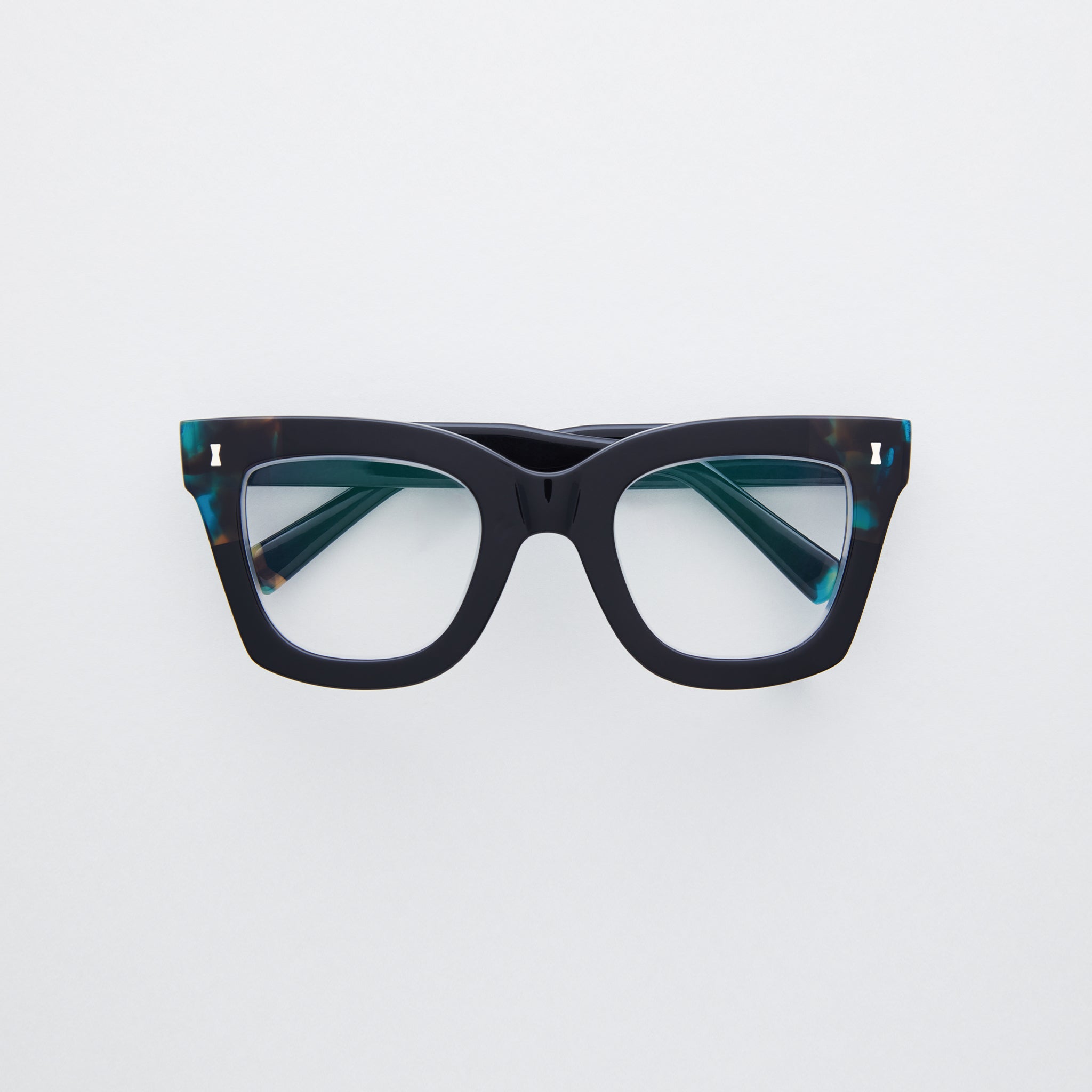 A lesson in elegance


An elegant, oversized frame with a shape that is a bold hybrid between a cat eye and square front. Black and Azure Turtle acetates are featured with laminated temple tips. Brass rivets form the hinge pins and securing the frame together. A lesson in elegance.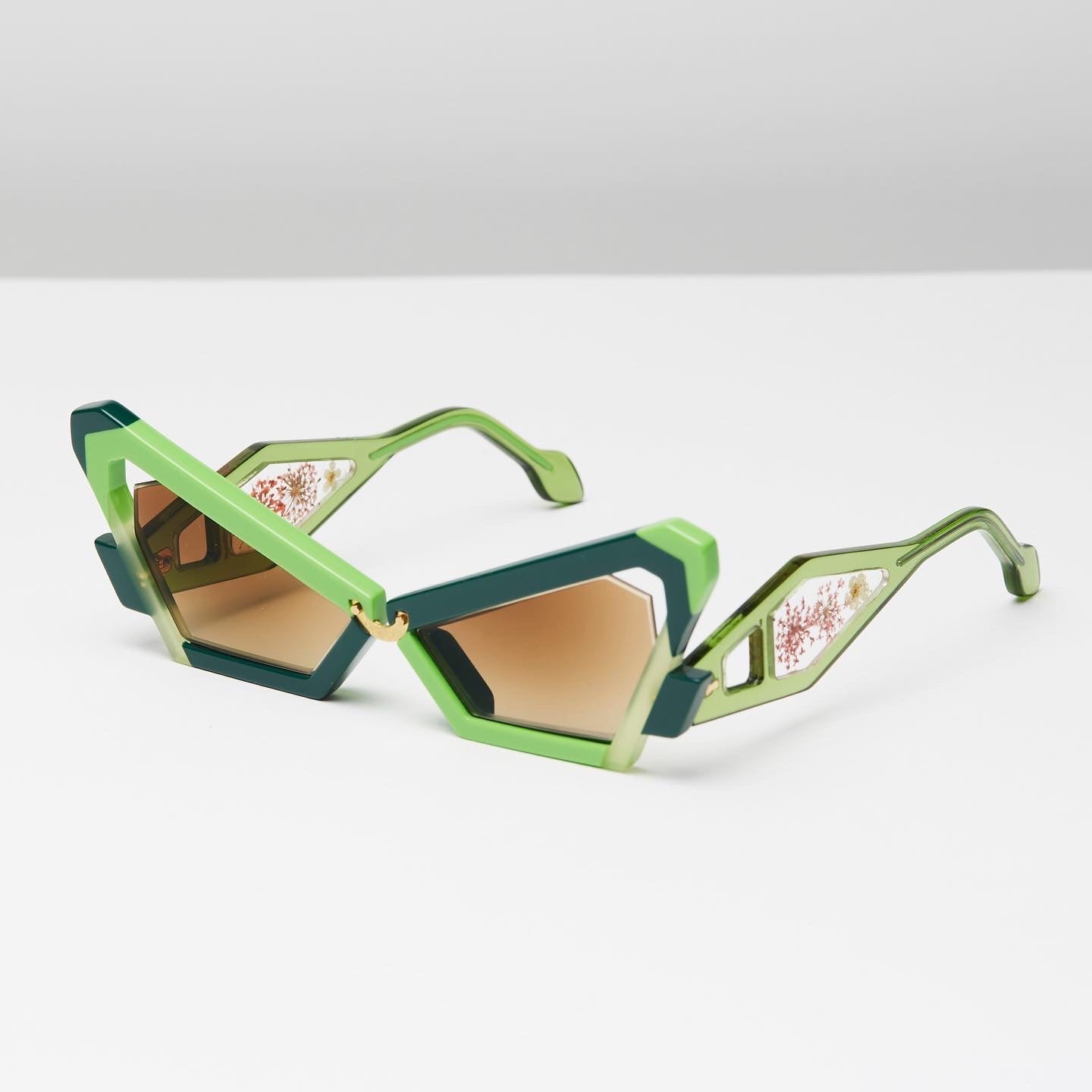 An inspired brief executed to precision


An all green exaggerated cat eye shape, paired with different greens bright, neon, translucent and solid. Thick frame, floral effect on the temples and tinted lenses.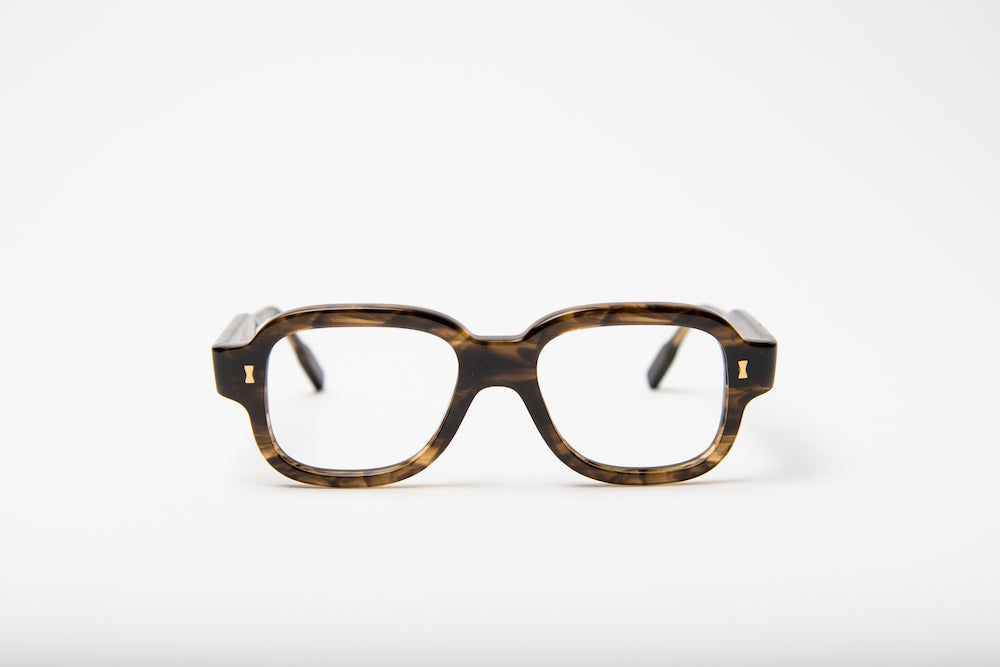 Inspired by a winning poker card in Las Vegas


We worked with Gary to design a bold, graphic and minimalist square frame inspired by his passion as a guitarist and a winning poker card in Las Vegas. Created using acetate, this frame includes a poker card engrave and signature, with brass rivets and line engraves on the tips as a reference to his passion for guitar.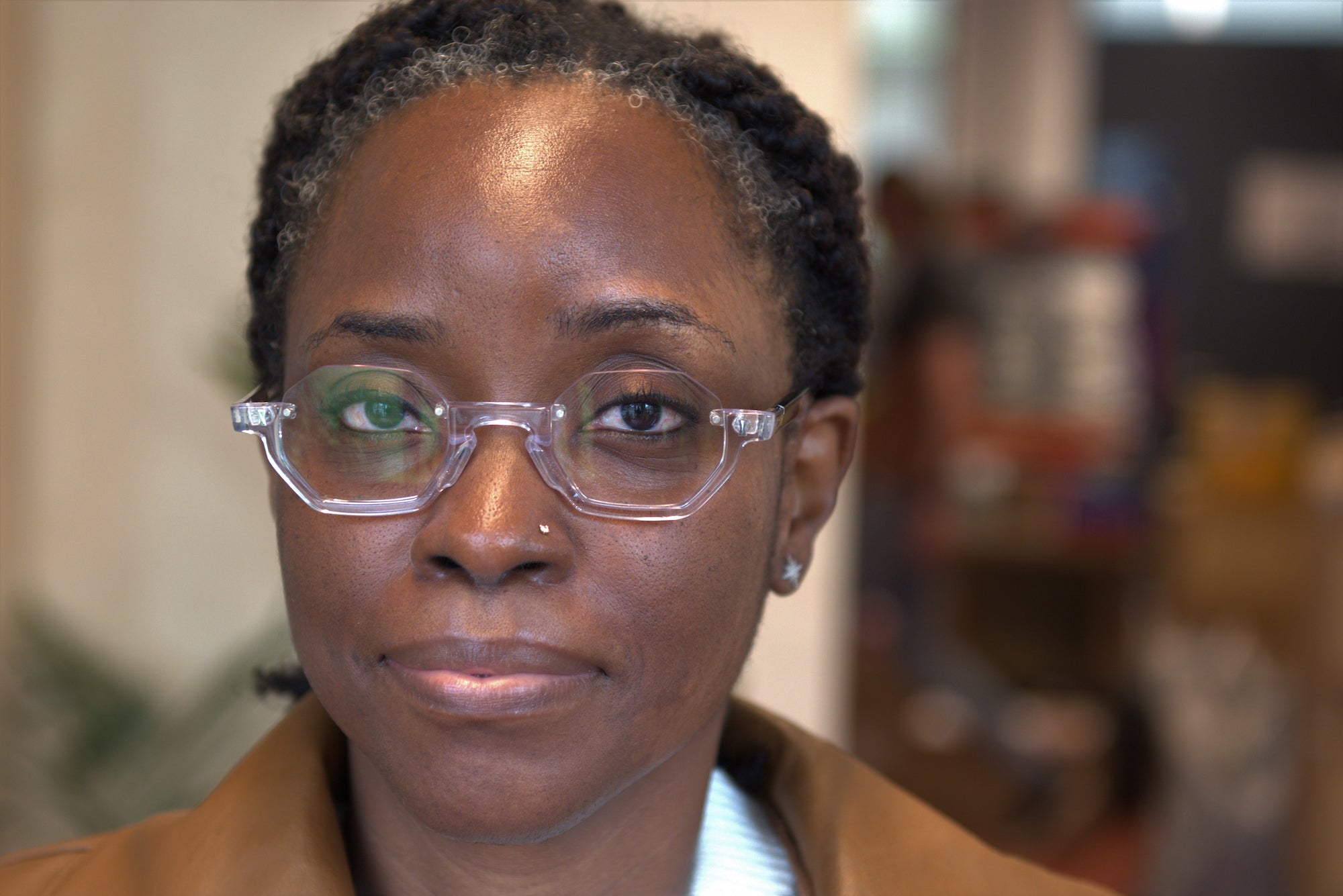 Surgical precision


A Bespoke+ with a hexagonal lens shape, and a rimless top with the lenses secured by screws. Made in Crystal acetate with a White Noise lamination on the temples, a highly angular frame with incredible precision.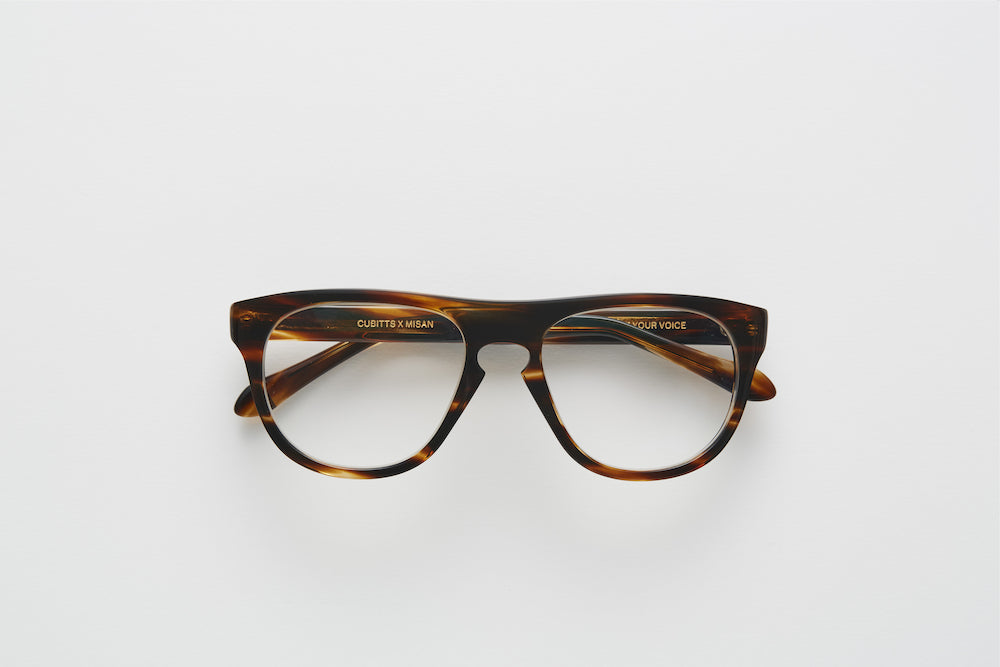 Frames fit for photography


Misan approached us looking for a pair of frames which wouldn't obstruct his field of vision for his photography work. Using Embers acetate in matte, we developed a classic and elegant shape with wide lenses to maximise his peripheral field, wood lamination on the tips and a low bridge to ensure a good fit for his low crest.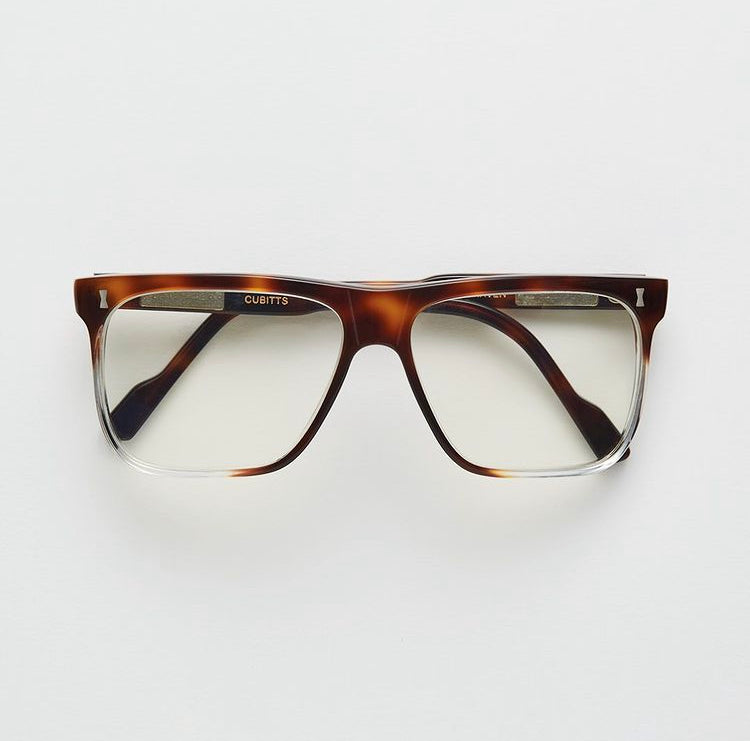 A modern take on a sporting essential


We worked with Namibian cyclist Dan Craven to create a modern take on a sporting essential. Using 3D printed acetate elements, this frame includes a unique magnet system to add clip on side shields, transitional lenses for all weather, crystal lamination at the base to give a clear peripheral view and a dropped bridge to reduce any interference whist racing. The outcome of this collaboration is in keeping with Craven's creative personality, style and his individuality within the sport, bearded and laid back - an everyday hero - in comparison to most pro racers.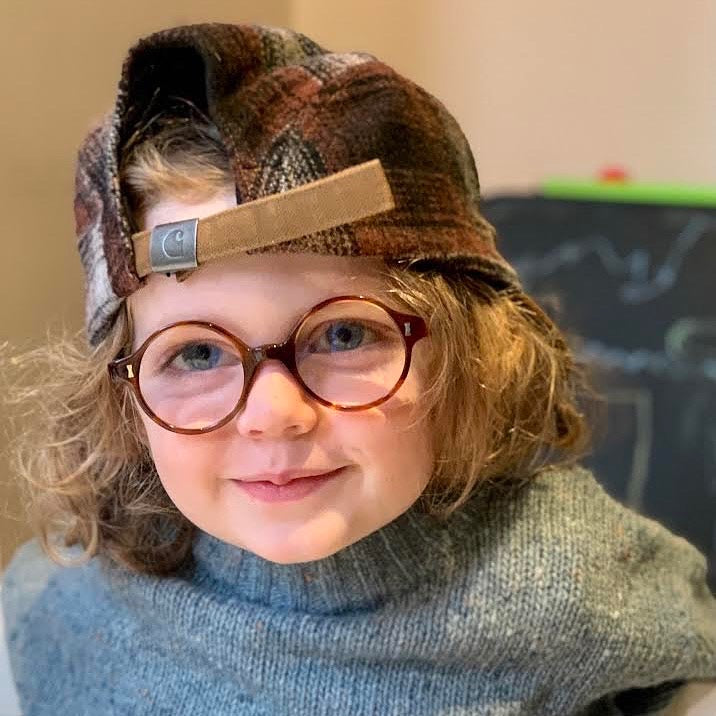 A playful frame for our youngest bespoke customer


When Erica and Thomas discovered their child Cassius required strong prescription lenses, they struggled to find a frame that didn't lack on style simply because they were for a child. Looking for something playful and elegant, they came to Cubitts to design their own. Our brief was to create a pair of glasses that were as fun as their three year old. We agreed on an oval shape as it's better for a the child's vision. Children are always looking up so the round frame covers more surface. We also chose two acetates, Dune for the front and Sky Blue for the temple lamination, complimenting Cass' hair colour and eyes. Overall the result was incredible.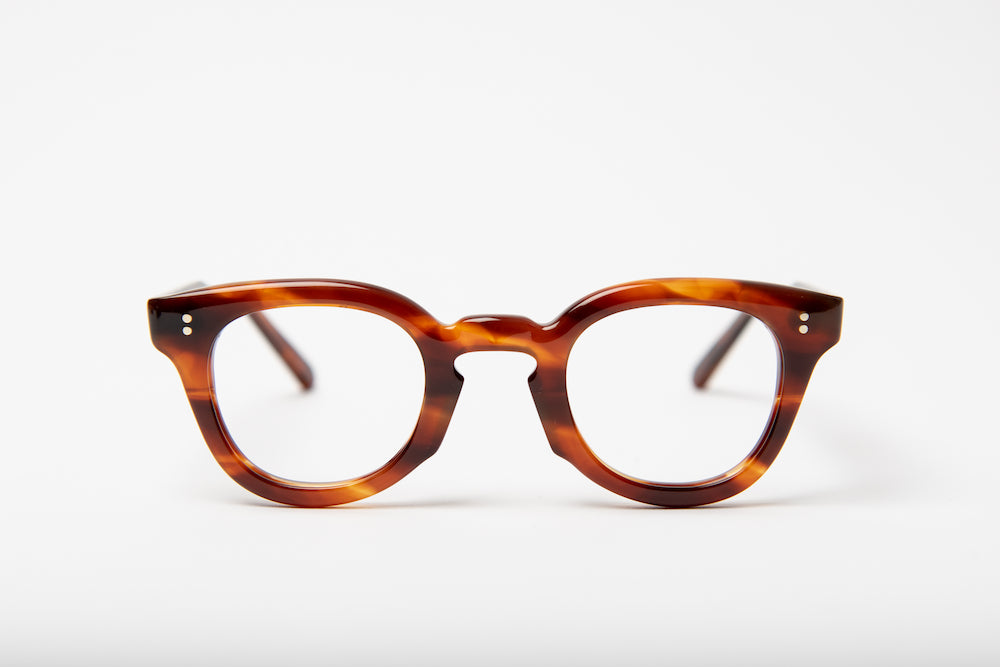 A frame which balances soft and bold


Crafted in our Dune Bespoke colour with a high polish finish. This panto frame features a graphic key hole and ultra rounded edges which add softness to the striking boldness of the frame. A physical representation of the temple inscription, 'Strikes and Gutters'.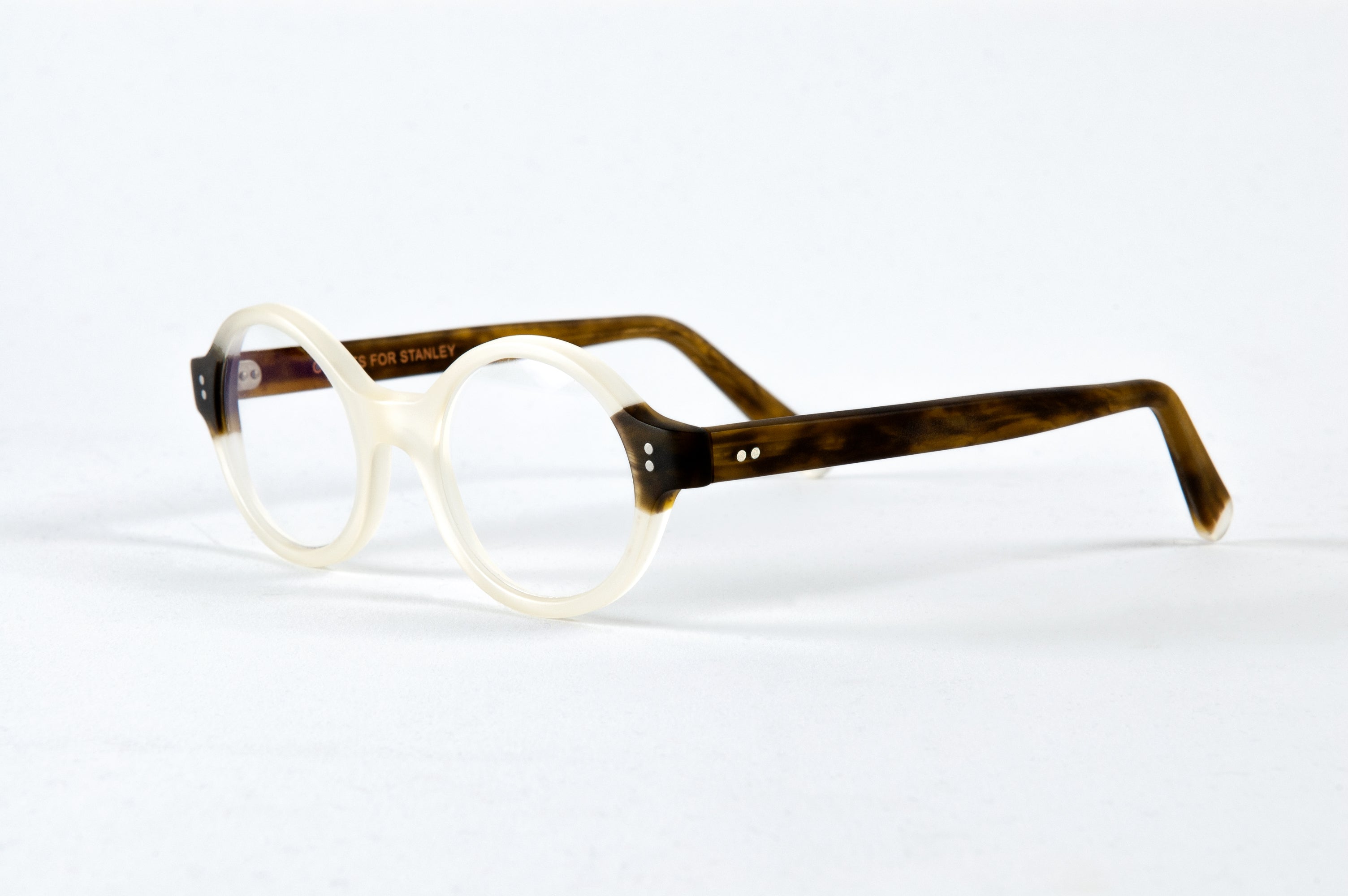 A sweet tooth for spectacles


Stanley came to us with a brief inspired by cola bottles. The frame's matted finish and multiple laminations on the lugs and temples achieve the colour fade as seen on this iconic sweet.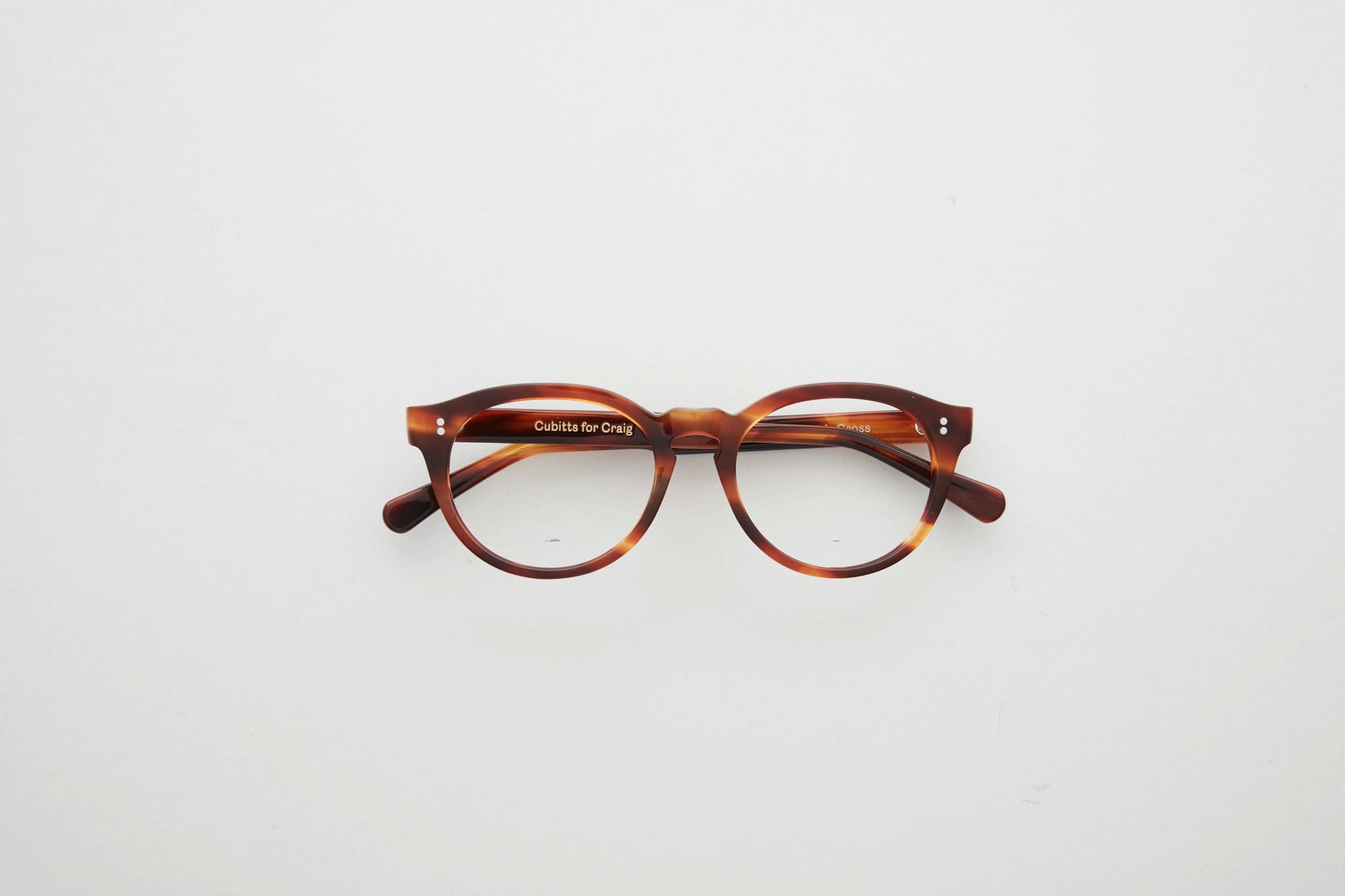 Subtly refined


For a nose that knows no equal. A panto lens shape, with a nose bridge ever so slightly narrower and lower than most. Crafted from dune acetate, with classic dot rivets. A lesson in personalised elegance.
A sight for sore eyes


An acquired taste. But then, that's what bespoke spectacles are for. A playful squashed rectangular silhouette designed for a narrow bridge. Kaleidoscope acetate with High Vis laminated details on the temple tips and front. "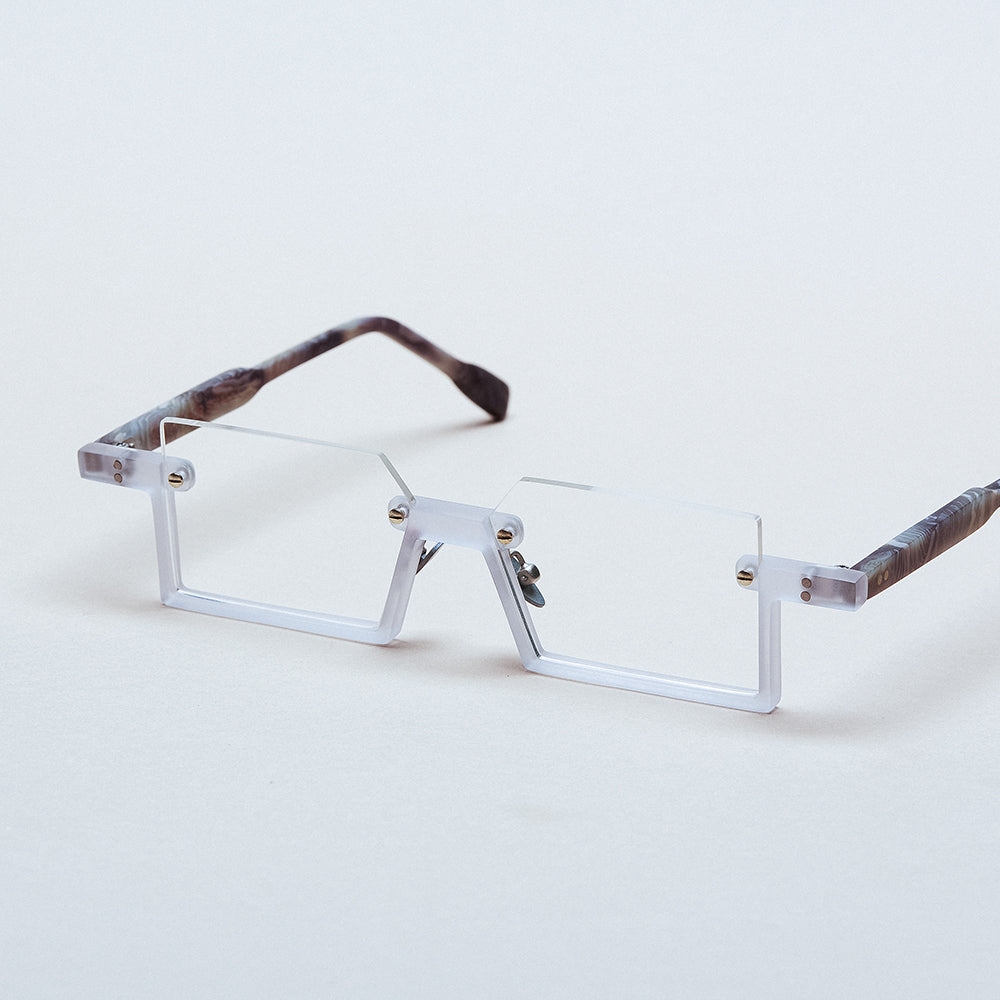 An ode to angles


A highly angular frame resulting in our most geometric Bespoke+ ever made. Featuring metal nose pads, lenses secured by screws, a matted crystal front, and a rimless upper. Highly surgical.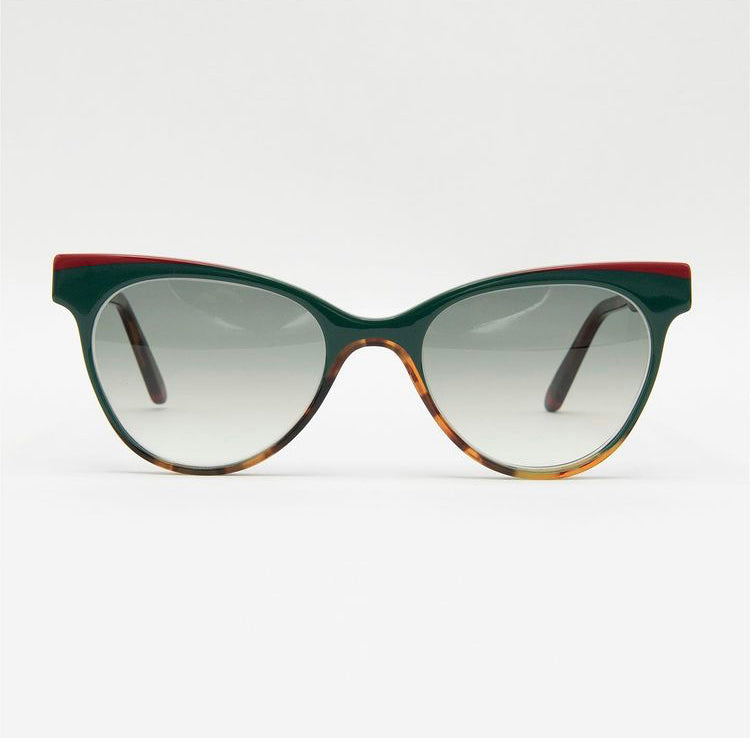 Another perspective


A modern cat eye with triple lamination in Racing Green, Autumn Leave and Crimson. Compllimented with green graident lenses. Look closely and you'll read 'súil eile', Irish for 'another perspective'.
A Winged Victory For the Sullen


A diptych of bespoke frame for A Winged Victory for the Sullen. To mark the release of their new album, Invisible Cities, we created two sunglasses for critically acclaimed composers, A Winged Victory for the Sullen. Inspiration is taken from Adam's pendant and reflected on the temple engraving and brownline of the silhouette. The heights of the temples are 13mm, carefully referencing the 13 songs of the album, with the palette reflecting the artwork of Davy Evans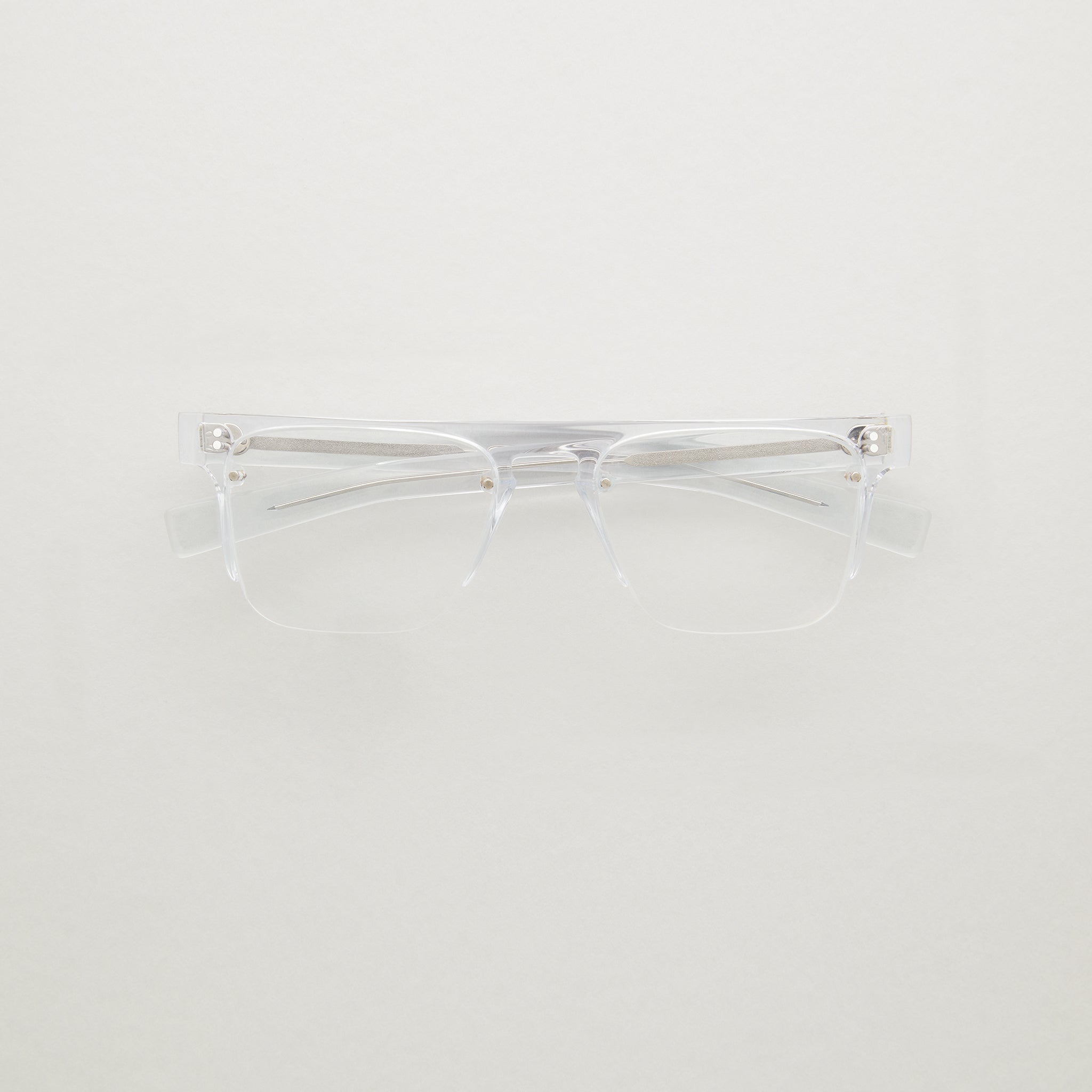 A frame to be worn at the olympics, aswell as at the ceremony.


Elegant and sporty glasses featuring crystal acetate and a quadra lens shape secured by screws. A flat top browline gives a bold and architectural look to the silhouette of the frame. Engraved in silver, the inscription sits on the outside of the temples reading, 'Picasso Baby' and 'Moins par moins donne plus'. One for our French friends to figure out.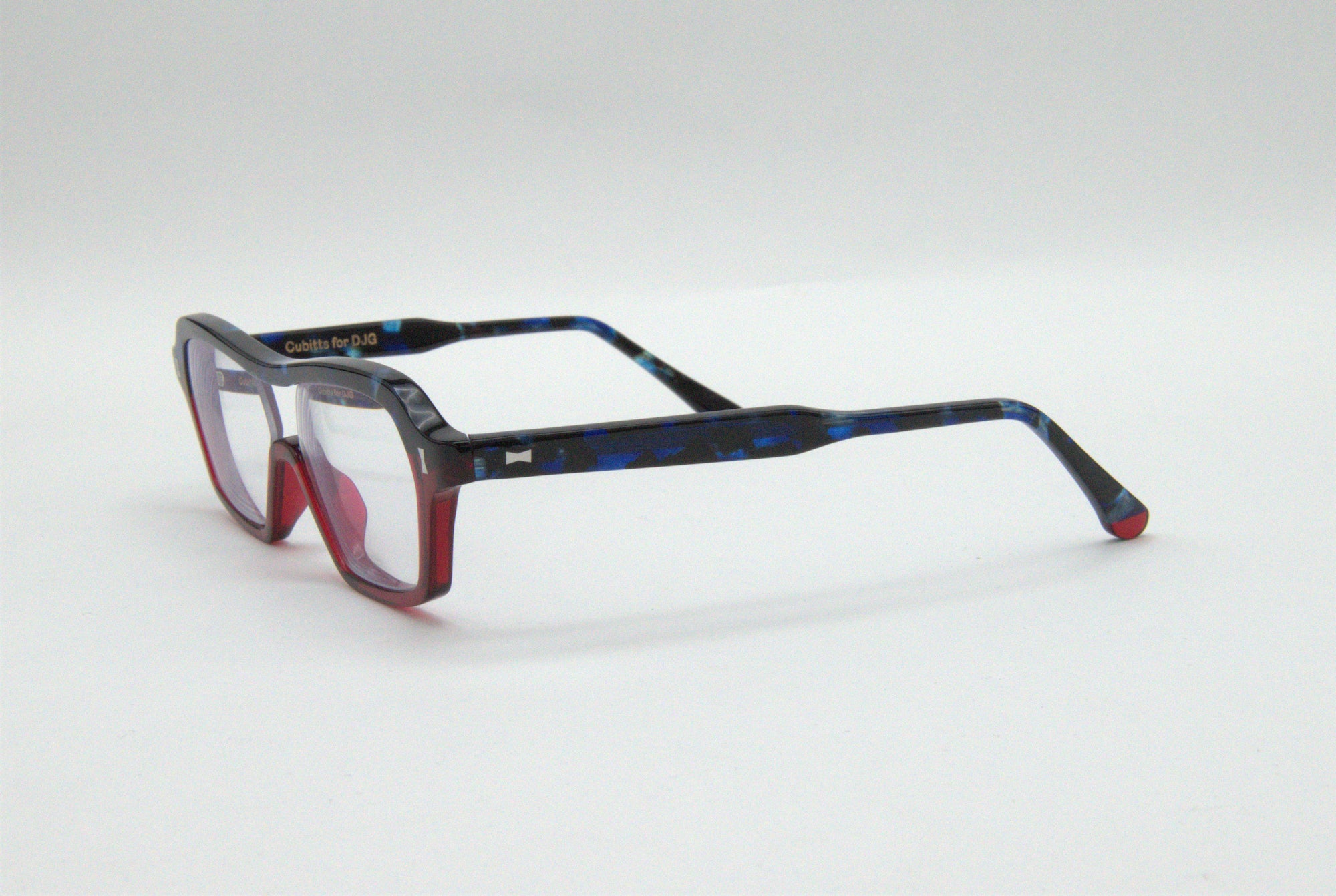 When music meet eyewear


A colourful frame for DJ Gary Smith featuring two acetate tones achieved through lamination. Constellation on top with a Burgundy bottom and temple tips to match. The floating lens design adds to the ethereality of these frames with the lenses held in place by the frame structure and shape.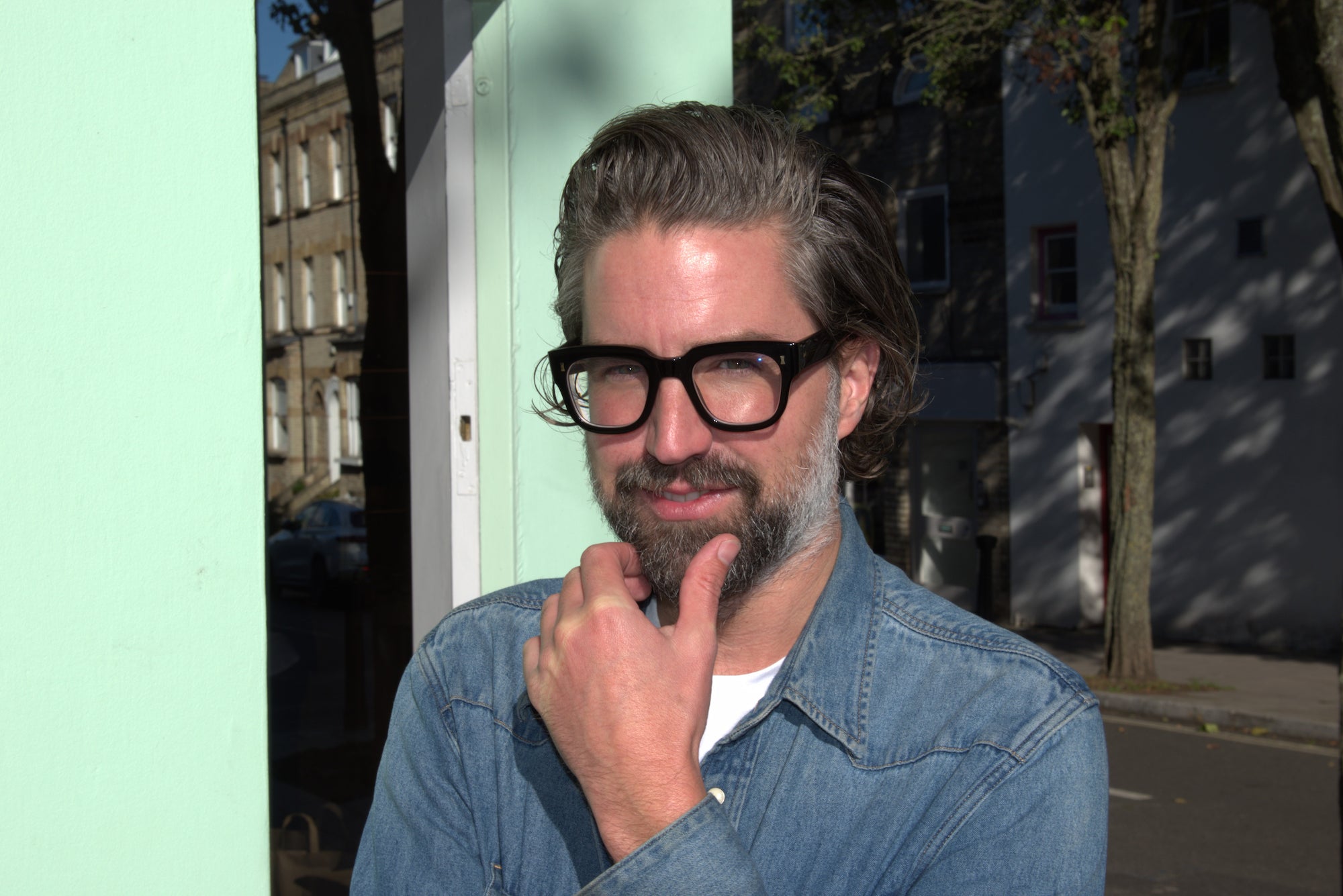 Frames that champion individuality and family


Working with Jack Guinness (yes, of the famed Guinness family) our workshop created something that truly represented Jack. Bold and elegant, these black acetate frames are detailed with gold plated hinges and sturdy brass rivets. The chamfer on the top of the frame references the toucan beak of vintage Guinness adverts and the temples feature the globally known Guinness harp logo. These frames stay true to Jack individuality whilst celebrating his heritage.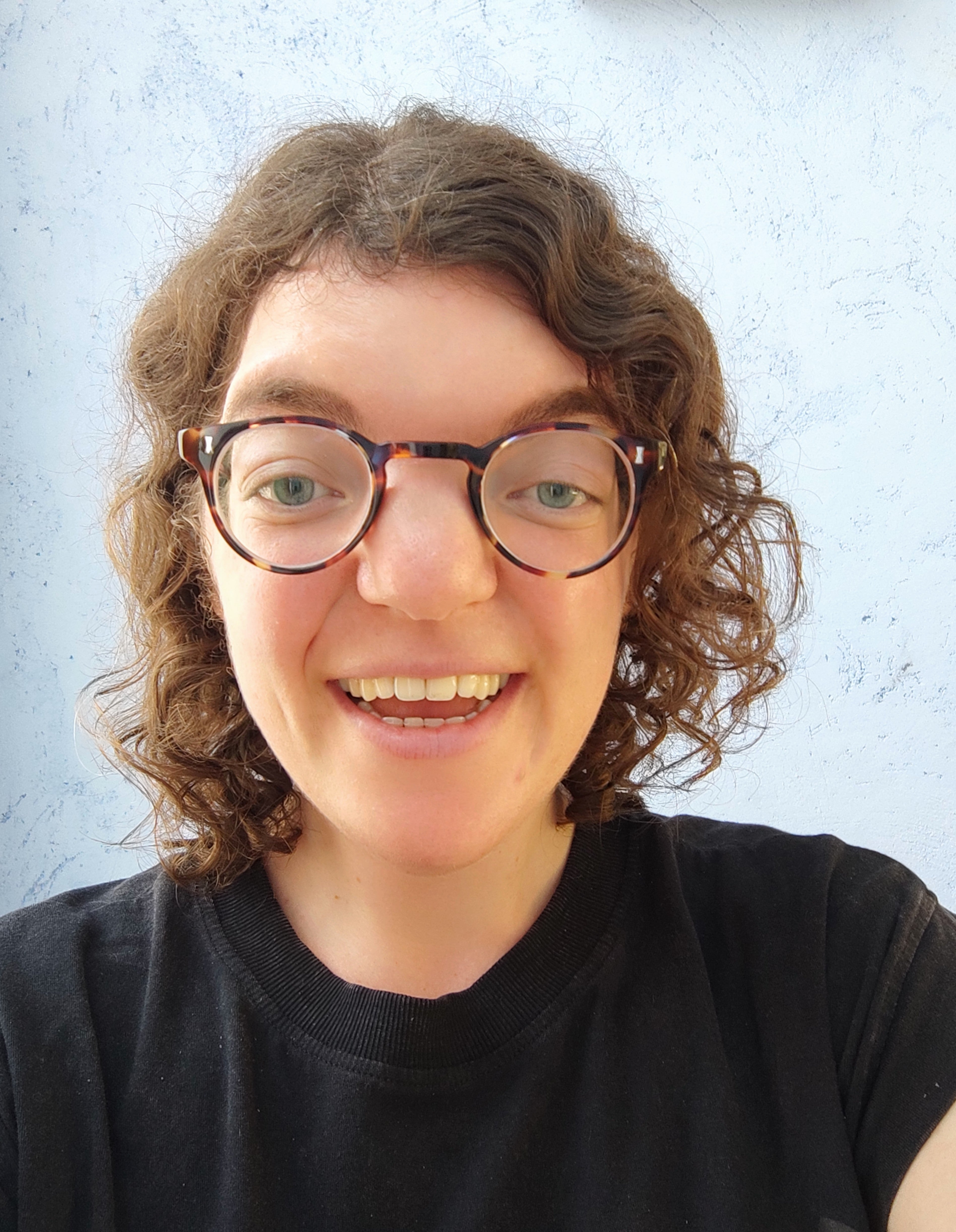 Perfectly fitted with 3D mapping technology


Having never been able to find a pair of frames which fit her, we worked with Yael Berger to create bespoke spectacles which fitted her unique facial features. Using our 3D facial scanning technology, we created a bespoke take on our classic frame Herbrand, in the colour kaleidoscope.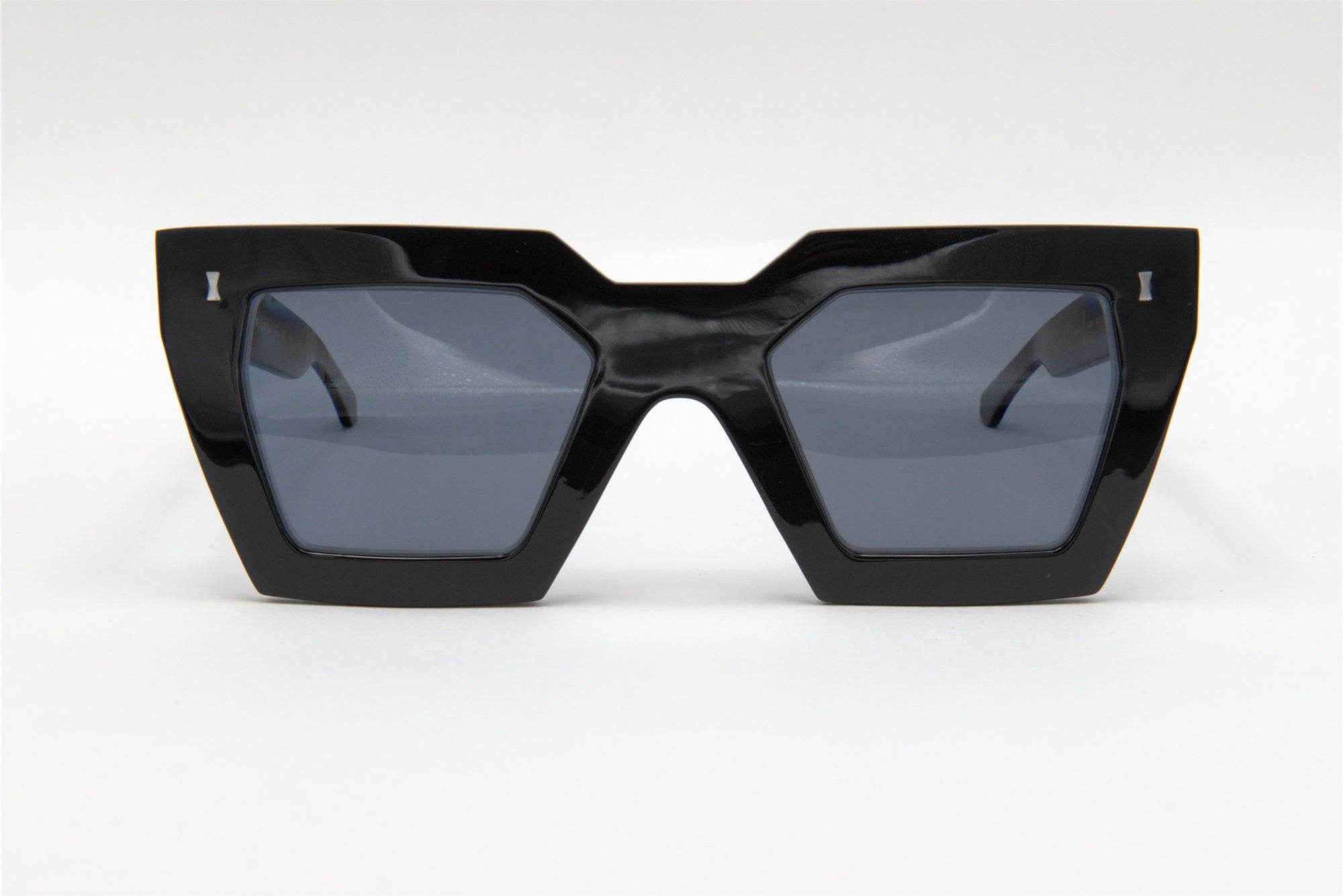 A formula of sharpness


Oversized and statement, we've created that black acetate Bespoke frame featuring very angular and sharp features all over. As a personal details, we've engraved the game theory formula from his PDH dissertation engraved on the sides.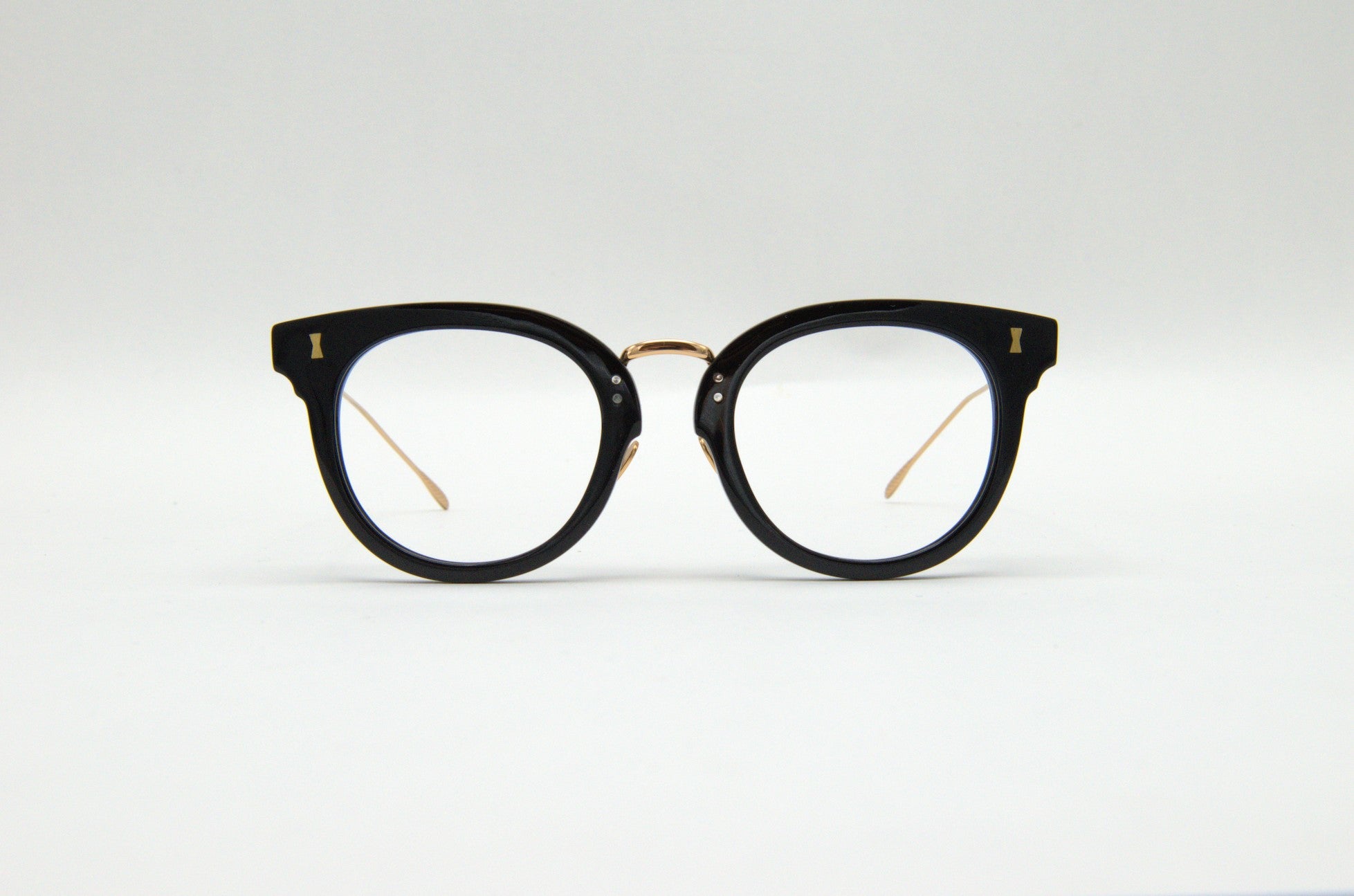 Acetate designed like jewellery


Glamorous and elegant combination frame, featuring a round lens, brass rivets and ornamental pointy curve details on the lugs and the bridge. Handcrafted out of a black acetate rim, we've attached a metal bridge and Beta Titanium temples, both gold plated. A classic revisited to bring uniqueness.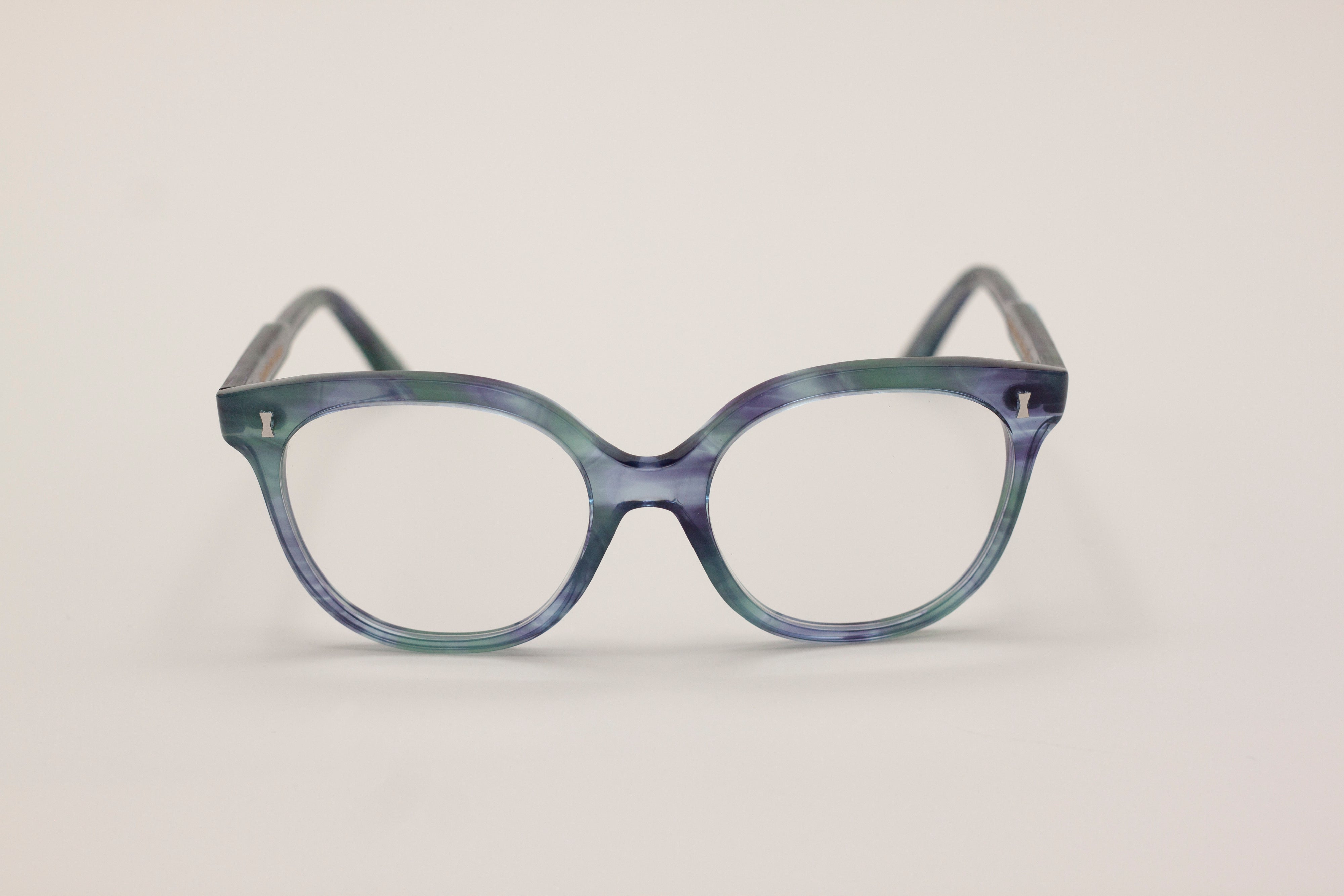 Delicately distinctive


A masterpiece in subtle flare. A round silhouette with the gently tantalising hint of a cat eye. Rendered in oceanic Rainbow Flush acetate, with red laminated temple tips providing a vital spark.
It's an unusual person who doesn't play a character some of the time. Most of the time.