To coincide with our new collection, we're celebrating history's emotional utilitarians. Designer-makers who committed themselves to the very plainly functional, with a touch of romanticism. For our Noguchi frame, we looked to the pioneering metalwork and experimentation with interlocking forms of Isamu Noguchi.
While smoking a cigarette with his feet upon a perfectly positioned freeform ottoman, Isamu Noguchi realised that his rather beautiful ashtray was not the best thing it could possibly be. He spent subsequent years developing multiple prototypes of the perfect ashtray, an object which perfectly incorporated the holding, ashing, and stubbing out of a cigarette, so that he could go back to enjoying his favourite pastime.

Isamu is the very picture of the Emotional Utilitarian.
'Everything is sculpture. Any material, any idea without hindrance born into space'
If we were to take a Venn diagram of Isamu's aesthetic practice – from furniture design to sculpture – it would have only one circle. Everything is sculpture, which is not to say it cannot perform a function. His most notable works in this field are his orb-like Akari lamps, and his tesselating coffee table, both of which have taken on a sort of iconic aura through their mass dissemination.
But it's his lesser known Pierced Table of the early 1980s that truly realises a synthesis of sculpture and utilitarianism. Constructed from a single sheet of metal, folded across three planes, interlocking for stability without joins or rivets. It is the properties of the metal alone that act to make this object useful. Precise kirigami in sheet metal. A single thought, rendered in a single material.

But far from the absolute utilitarian ideal of a table – that is to say, a thing constructed purely and simply for putting things on – its surface is interrupted by a protruding fin, emerging from a hole in its surface. In fact, it is not immediately intelligible for its function – the eye is drawn first to the strange composition of its manufacture.

You might well perch yourself before it, admiring it as a fine work of sculpture. Or you could pop your ash-tray on top, light a cigarette, and enjoy yourself. We hasten to say Noguchi himself probably did a bit of both.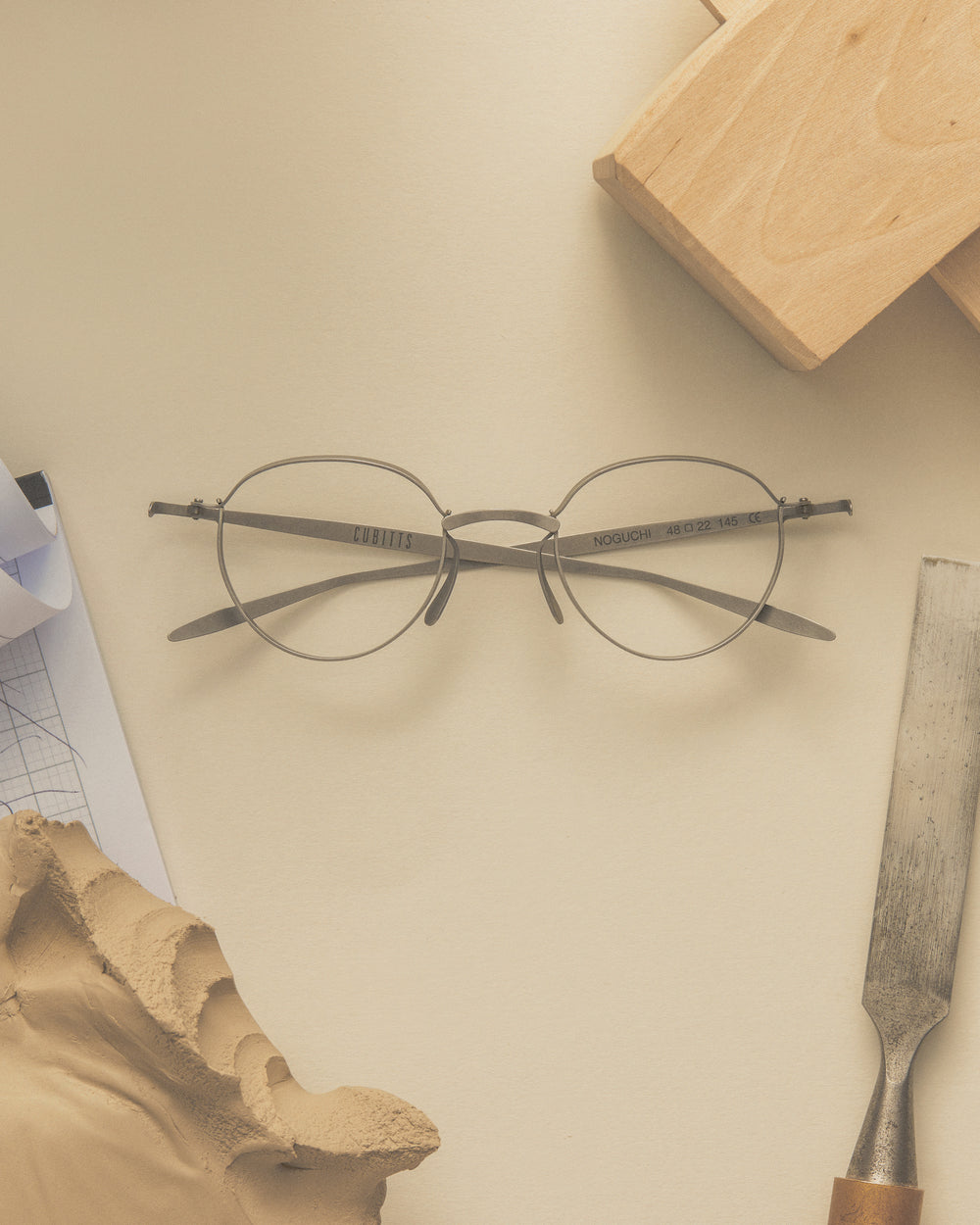 Noguchi
From Isamu to Noguchi
We've named our most innovative ever frame after Isamu, with a design that takes its lead from Pierced Table. The front is made from a single sheet of steel, wrapped and folded to incorporate rims and nose pads.
'It's weight that gives meaning to weightlessness'
As opposed to screwed hinges, the lugs are composed of interlocking joins, interacting and folding in the manner of Isamu's sculpture.

Noguchi. An Emotional Utilitarian.