For this edition of our conversation with Errin Hussey of the Henry Moore Institute we focus on the depiction of
spectacles
in sculpture and their relationship to each other.
C: Tell us about the item you have chosen to show us for this theme.
E: So I have chosen to show you the toolbox of the sculptor Jacob Epstein because as soon as I heard about the theme of spectacles, this came to mind straight away. Inside we can see this has all of Epstein's personal tools used for sculpting, as well as other more obscure objects like wax candles which we are less sure of their significance. Most important to this theme, we can also see his spectacles kept in here which add a highly individual part of it. His toolbox is such a personal object in my opinion compared to some of the other items in the archive.
C: How interesting and unique. Do we have an idea of what he would have used the candles for?
E: Our best guess is that they could have been used in the glazing process, as a wax relief allows for parts of ceramic to remain unglazed with the uncoated areas being filled in.
C: And what do we know about the relationship between sculptors and spectacles?
E: Not too much really! I've not seen too many sculptors depicting spectacles. Even though there's so many portrait busts in the art world, they just never seem to feature on their subjects. Even figures like Winston Churchill, people may remember him as wearing his reading glasses but there's no sculptures of him wearing them.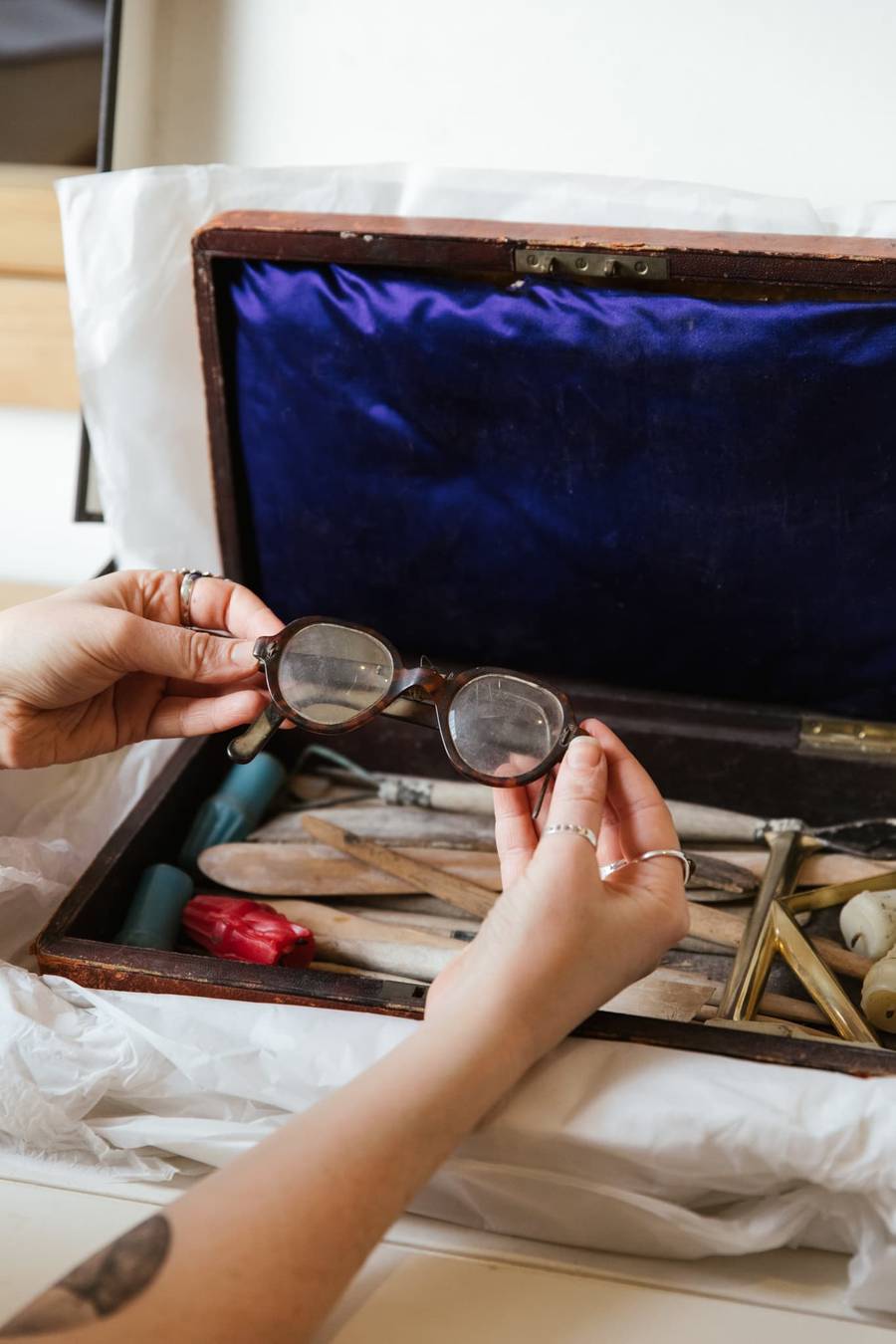 C: That's interesting as well because spectacles are sometimes seen to be a sign of wisdom and knowledge but you still rarely see them depicted in this art form. Official portraits may forgo spectacles and even today many celebrities will choose to take their spectacles off for public events where they're being photographed. Hopefully that's something we can change.
E: Has Cubitts been influenced by sculpture?
C: Definitely by a lot of the modernist sculptors such as Barbara Hepworth and Henry Moore. You'll see this come through either in collection themes; the use of geometric shapes or an organic curve. The sculpture Birds of Space by Constantin Brâncuşi influenced the shape of the temples on our New Tomorrow combination frame collection. For this summer we have also released a triptych of frames that are avant garde and for display only. These were based on the brazilian sculptor Roberto Burle Marx who was an important part of the modernist movement there. So every collection takes some sort of inspiration from art and design and that's really important to us.
You can learn more about Jacob Epstein and the archival collections at the Henry Moore Institute in person or by visiting their website.
This article originally appeared in Issue 07 of The Spectacle. Receive your complimentary copy with any order placed online, or pick one up in store.