Cubitts spectacles are made to be sturdy and repairable, their lenses durable and replaceable, but they nonetheless deserve respect. In fact, you should treat your spectacles as you would a lover. In most ways.

This is a guide for the Emotional Utilitarian. Someone concerned with keeping their spectacles in tip top functioning condition, all the better for appreciating an overwhelmingly beautiful sunset.
We're particular about the materials we use. Our core collection of spectacles is made using the finest acetate from Mazzuchelli in Italy. Flexible, customisable, and beautiful.

Its flexible nature makes it easy to adjust to the size of your head. Naturally, over time, the acetate of your frame may loosen a little through wear and heat, but it can be given a complimentary tighten in a Cubitts store.

Likewise, our metal and combination frames are made to be adjusted, with flexible steel and titanium parts.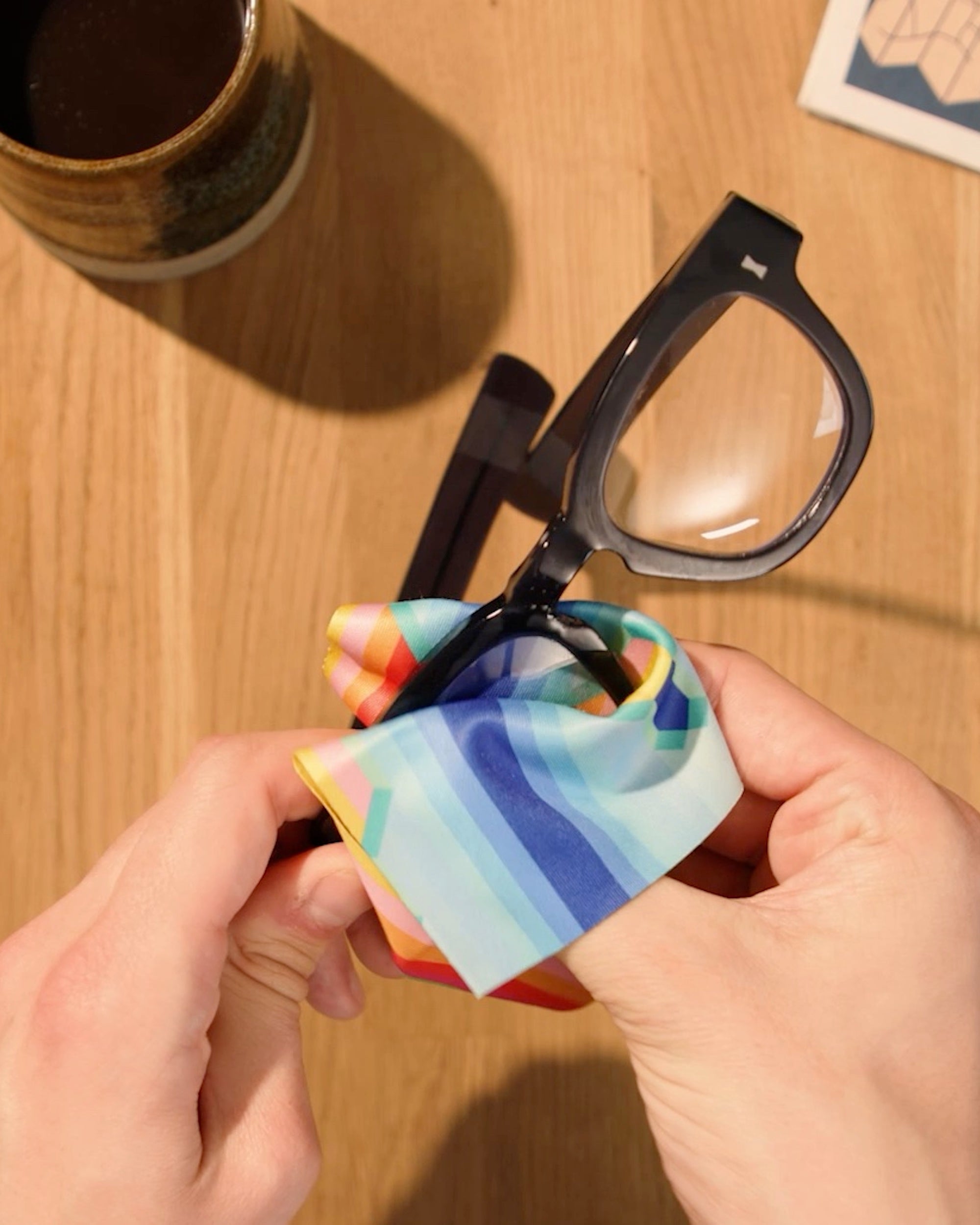 How to clean your spectacles
Make a habit of cleaning your lenses regularly with your microfibre cleaning cloth and anti-fog lens spray. This keeps your vision crystal clear.

Try not to wipe your glasses on your clothes, or use tea towels, harsh brushes, cleaning products, or dishwashers. We've seen it happen.
If you want to give your frame a more thorough clean, you can use gently warm water, a very mild soap, and a microfibre cloth, scrubbing gently and rinsing with fresh water.

You can always bring a frame looking a little worse for wear to a Cubitts store, and we'll give it a professional buff and polish to return the acetate to its former glory.
You can keep your frames safe from harm in their aluminium case, a custom designed sanctuary for your spectacles with a microfibre lining. Learn to recoil at the sight of spectacles tossed carelessly onto the table top, or thrust naked into a pocket.

Overenthusiastic double takes, careless pirouettes, negligent embraces. These are the downfalls of the Emotional Utilitarian.

For spectacles that do break, hope is not lost. You can bring your frames into a store, and we'll repair them in our workshop. Find out more about our frame rehab service here.