To coincide with our new collection, we're celebrating history's Emotional Utilitarians. Designer-makers who committed themselves to the very plainly functional, with a touch of romanticism. For our 'bent lug' frames, Handel and Kember, we looked to Gerald Summers' obsessive experimentation with plywood furniture.
In 1934, Gerald Summers took a single sheet of plywood, and made four lengthwise and two lateral cuts in its 13 layers of cross-grained veneer. He placed it in a mould and waited for precisely eight hours for it to set into a beautifully curving form. Then he reclined in his new armchair and indulged in a reverie.
To call it Gerald's masterpiece conjures images of something flashy, demanding to be noticed. It's not a word Gerald would have used. 'A thing had to do a job,' said his wife Marjorie Summers, 'and so he designed it to do the job it was meant to do.' Gerald's armchair is the very best embodiment of this rule; a complete testament to the dictum of 'truth to materials' that wears the process of its manufacture on its exterior, with more than a touch of romanticism; an archetypal frontispiece for the aptly named Makers of Simple Furniture.

It's one of over two hundred designs they produced in the name of 'furniture for the concrete age' in the short ten year period between 1931 and the outbreak of WWII. Their designs mediated between the burgeoning modernism of central Europe to the more homely tastes of the British public. Was there ever a functional task more plainly tinged by a debt to the romantic?
'let's keep them functional
shaped for purpose pleasant to feel looking quiet'
Gerald's first catalogue is uncompromising in its poetry of the pragmatical:

let's keep them functional
shaped for purpose pleasant to feel looking quiet
with guts cheerful
picked out with roses?
ugh
nor encrusted with cherubims
dust and death
this is life
what about space light and colour?


As far as we know, no other twentieth century modernist has put the word 'ugh' to print to describe how they feel about unnecessary ornament.
Gerald set out to achieve his poetic goals through the mastery of a single material: plywood. At that time ply was commonly used in design, but rarely seen so boldly exposed. Its glueable, malleable, potentially comfortable form so leant itself to absolute functionality, it might as well be plainly visible in the final product, mused Gerald the Emotional Utilitarian.

With a greater degree of success came a yet greater opportunity for experimentation. In the mid-1930s, Gerald experimented with aircraft plywood, bringing a sense of engineering into his beautiful designs. In 1937, he worked with his spiritual brother-in-ply, Jack Pritchard of Isokon, to produce a tea trolley for the Lawn Road Flats. Once again, a single sheet of tinted ash ply forms the structure, bent into a figure of eight that cradles three shelves.

One can just picture Gerald now, helping himself to a celebratory cup of tea from a charmingly chipped china teapot, atop his newly created geometric marvel, and gazing wistfully into the distance through his spectacles.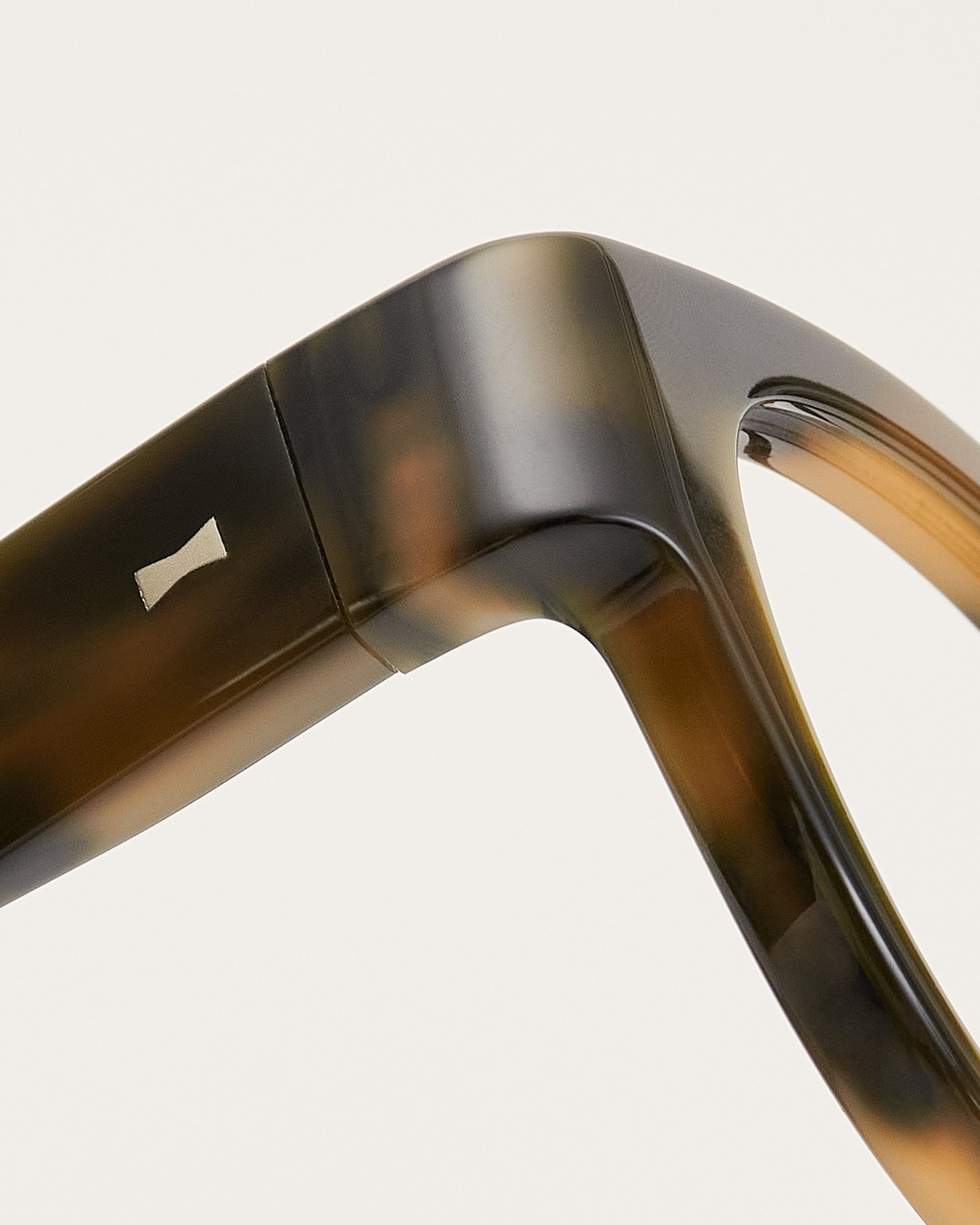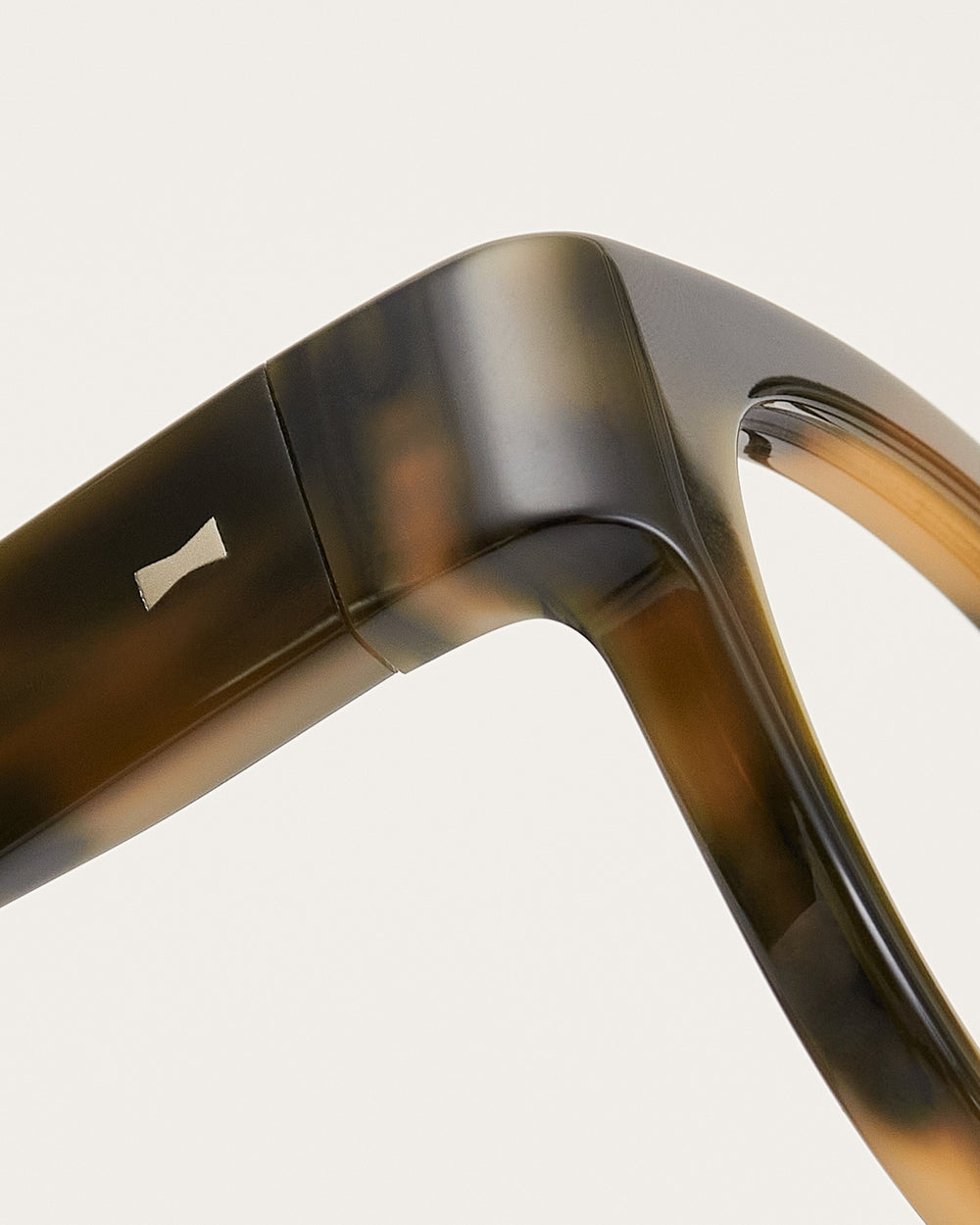 Handel and Kember
From bent ply to bent lugs
Like Gerald, we've spent ten years obsessing over the miraculous properties of a single material: acetate. Like plywood, its strength and malleability make it an eminently and infinitely functional – but nonetheless beautiful – material. Like Gerald, we've created something of a marvel through new experiments with bending.
'picked out with roses?
ugh
nor encrusted with cherubims'
We cut a panto and a square from a sheet of cellulose acetate, bent their sizeable lugs to a 90 degree angle, and pin-drilled their temple rivets by hand. Then we stepped back, steadied ourselves, and reflected on what we'd created.

Handel and Kember. Emotional Utilitarians.